Hidden treasure of the west
BIJOU Résidence
Idyllic setting
BIJOU RESIDENCE
ACCESSIBLE TO FOREIGNERS with residence permit for the whole family
NO AGENCY FEES
2-bedroom apartment: from €375,000
3-bedroom apartment: from €560,000
Penthouse : from 720 000 €
Welcome to Bijou Résidence, an exceptional real estate project located in Flic en Flac in the seaside region of West Mauritius. Discover a unique place to invest in a primary residence, a second home or a lucrative investment.
Enjoy an experience surrounded by privacy and absolute tranquility with Westimmo.
Privileged location
Discover mesmerizing sunsets, crystal-clear waters, white-sand beaches and majestic mountains.
Immerse yourself in divine nature, between sea and savannah vegetation.
A fulfilling life
In Flic en Flac, anything is possible!
Bijou Résidence offers you a fulfilling life, stimulating professional opportunities and a high-quality education.
Enjoy sports and leisure facilities, well-developed health services and a lively nightlife.
Exclusive real estate project
Built as part of the Smart City Scheme, Bijou Résidence is a first in Medina's Smart City.
This high-end project offers attractive returns for foreign and Mauritian investors. Choose from 24 apartments, 4 penthouses and 8 villas offering panoramic sea and mountain views.
Architecture and security
The residence's architecture has been carefully designed to harmonize the interior with the natural exterior, and you can enjoy total privacy in this fully-secured residence with 24-hour security, video surveillance and access control systems.
Low density, quality of life
Bijou Résidence advocates a judicious use of space, with only 20% of the built-up area. This low-density approach creates a feeling of openness and a unique quality of life, offering plenty of space to enjoy the natural surroundings.
Invest in the real estate jewel of Mauritius with Bijou Résidence. Discover a unique seaside setting in the sunny West, offering a fulfilling living experience and absolute privacy.
Choose from a range of high-end properties and enjoy attractive returns in Medina's first Smart City.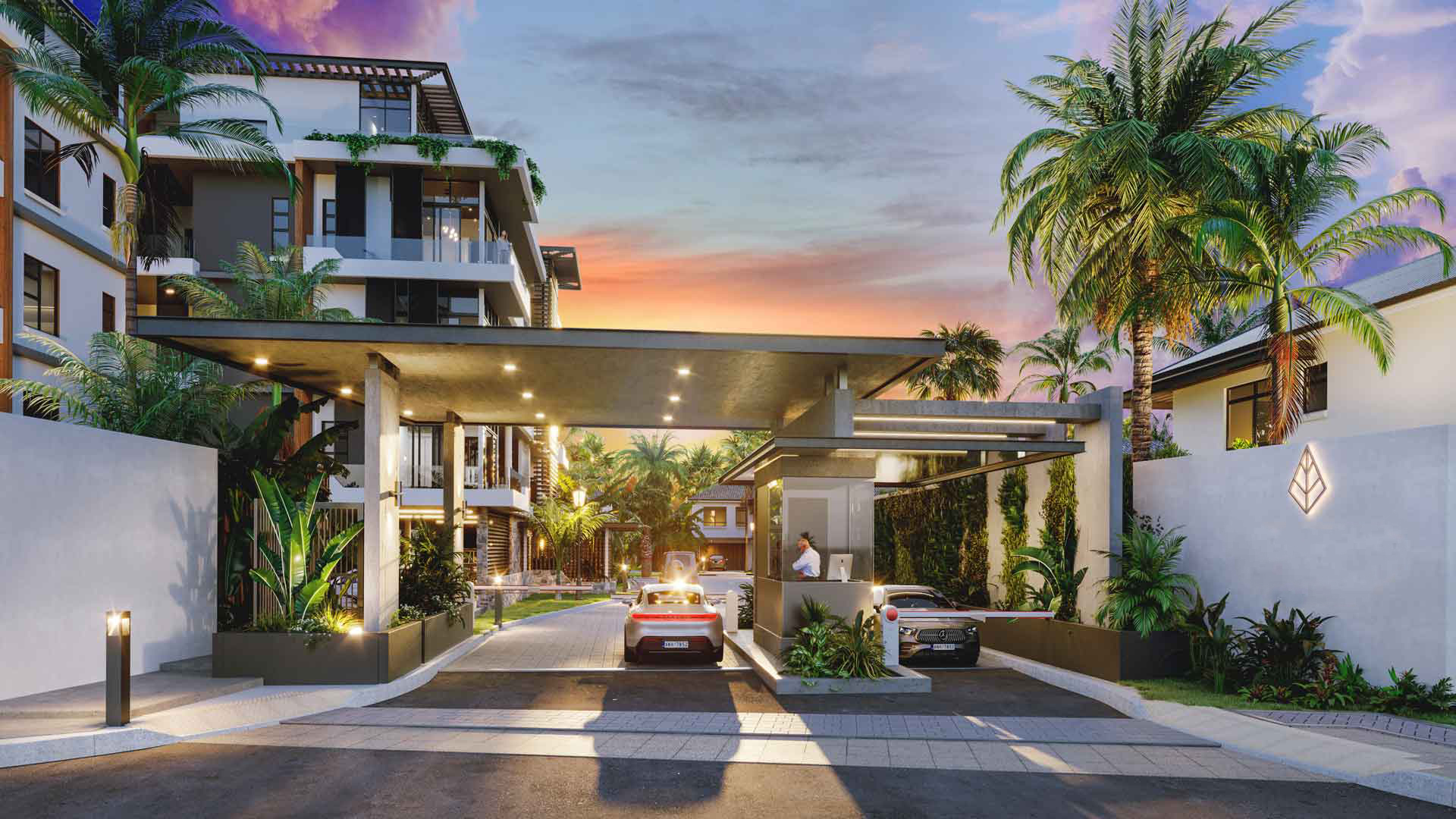 Exclusive membership program: As a Bijou Résidence owner, you can subscribe to an exclusive membership program linked to your property. This program gives you direct access to a range of modern, high-end facilities in Medina's Smart City. Choose from a selection of three packages to make the most of the benefits on offer.
Take advantage of Medina's Smart City: Thanks to your unique program membership, you'll have privileged access to the cutting-edge facilities of Medina's Smart City. This smart city offers a full range of high-quality sports, leisure and service facilities. Whether for sport, culture or relaxation, you'll find everything you need within easy reach of Bijou Résidence.
SPARC sports center: Among the many advantages, every Bijou Résidence resident will have access to the SPARC sports center. This state-of-the-art center offers modern equipment and top-of-the-range facilities to satisfy all sports enthusiasts. Enjoy exclusive access to world-class facilities to keep you fit and entertained.
A unique living experience: When you choose Bijou Résidence, you're opting for a truly exceptional living experience. Not only will you enjoy an idyllic seaside setting in the west of Mauritius, but you'll also benefit from exclusive privileges in the Smart City of Médine. Everything is designed to offer you the perfect balance of comfort, convenience and leisure.
Bijou Résidence is much more than just a luxury residence. With a judicious use of space, a built-up area of just 20% and a low-density approach, the project offers a spacious and exceptional living environment. Discover how this unique approach creates a feeling of openness and an unrivalled quality of life.
Our low-density approach guarantees total privacy and rare exclusivity.
We believe in a lifestyle where you can thrive in a calm and serene environment. Bijou Résidence offers you an escape from the hustle and bustle of the city, allowing you to recharge your batteries in the heart of nature.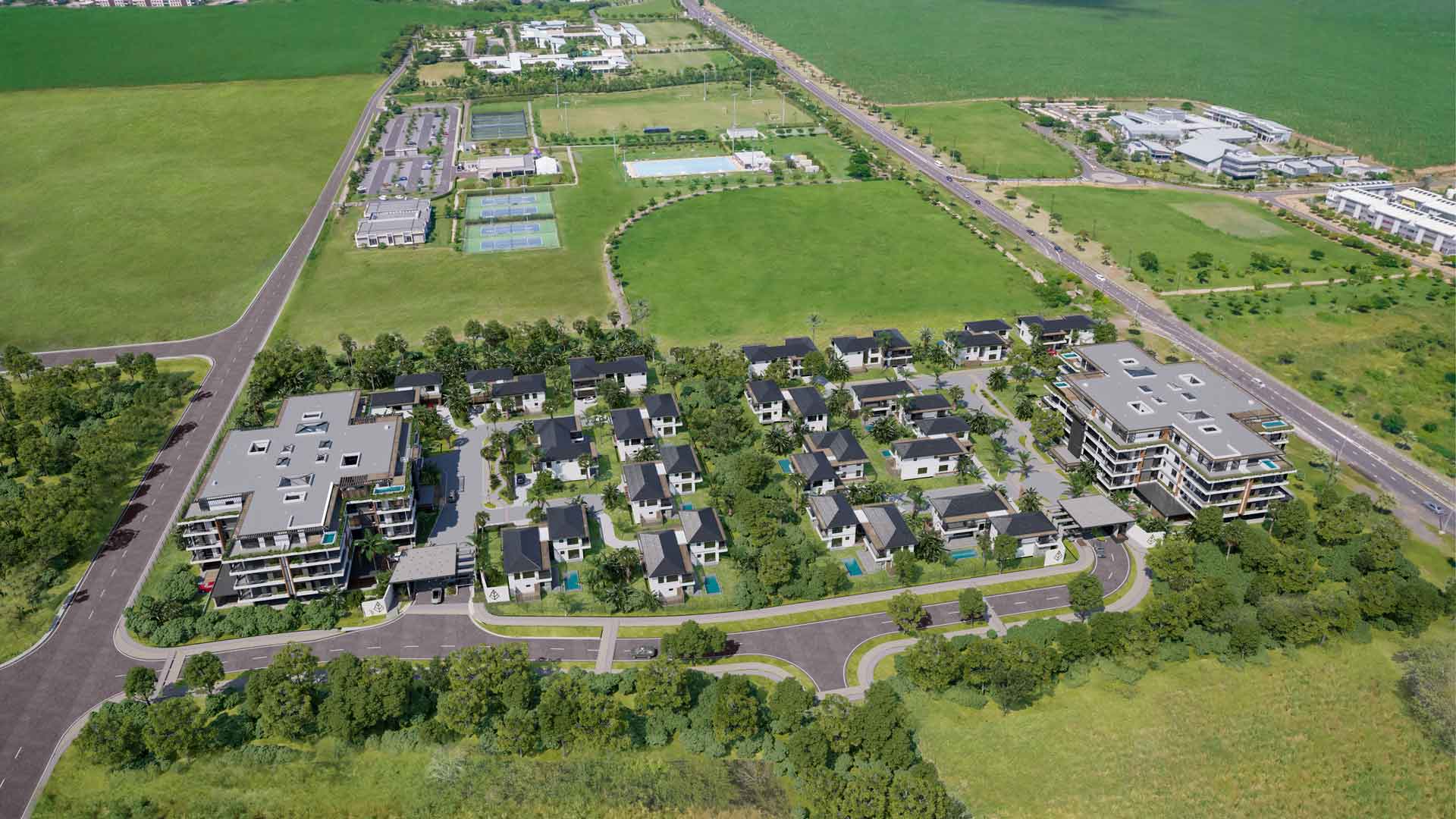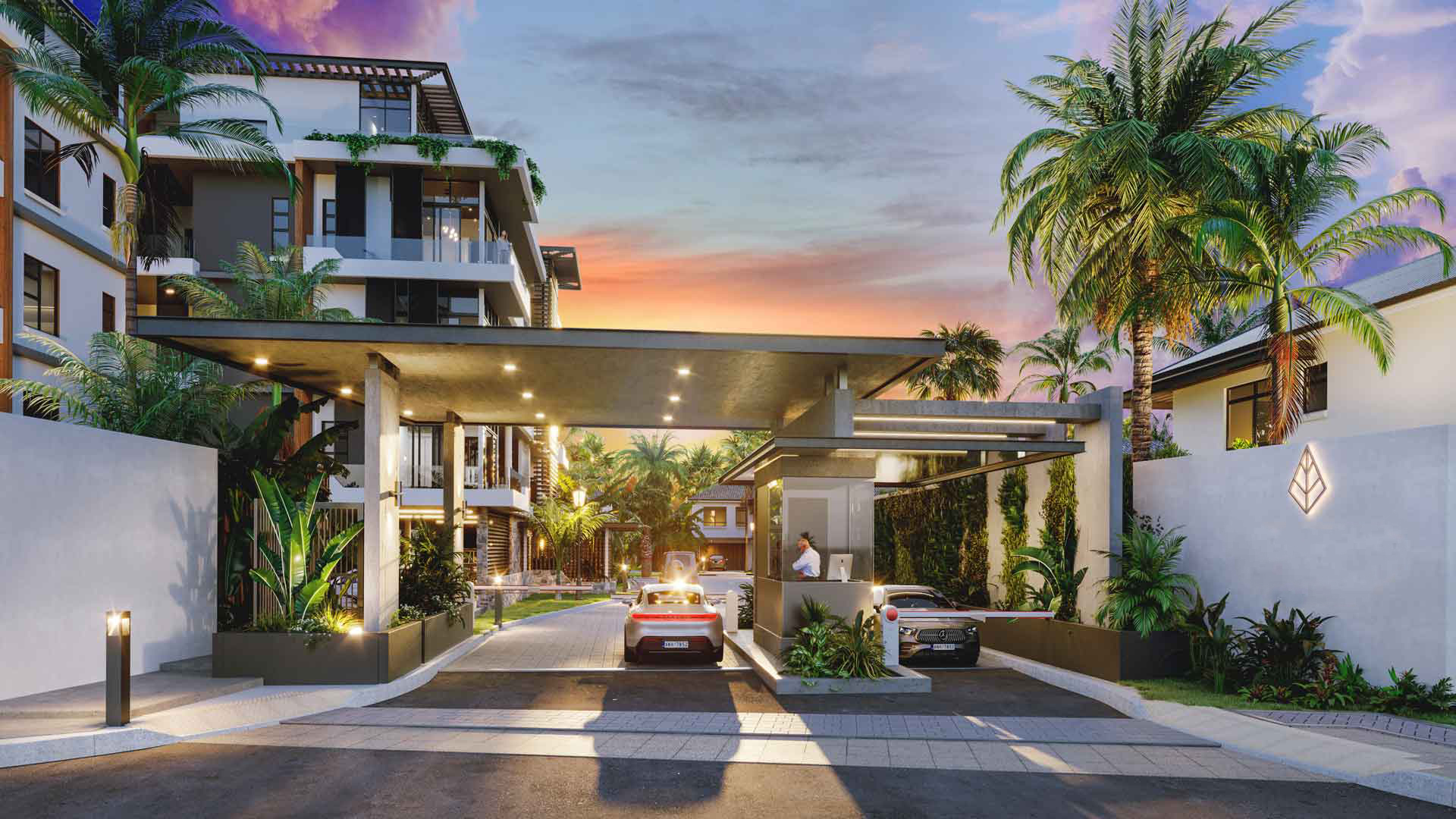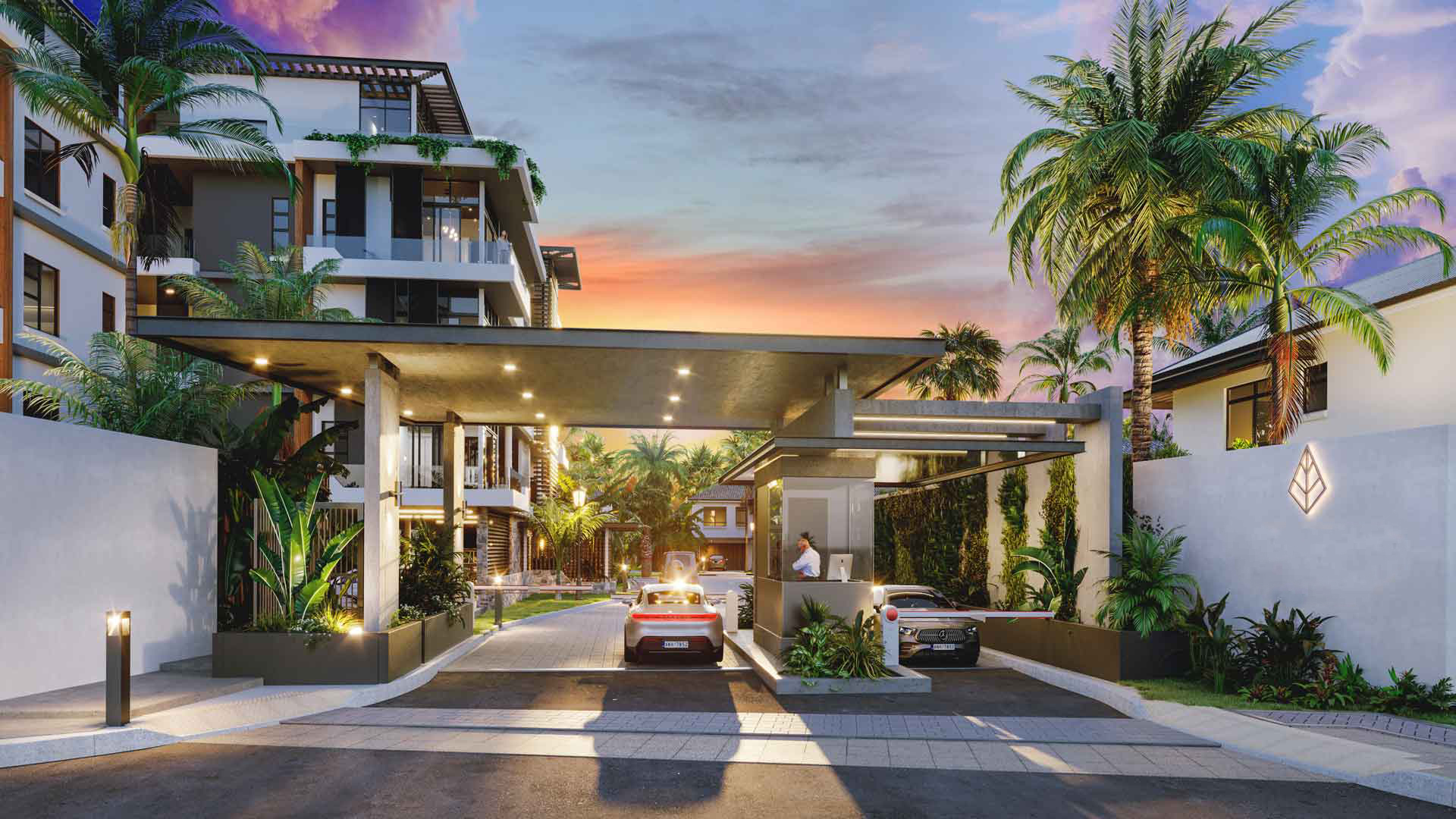 THE APARTMENTS Bijou Résidence
Details in brief
– Number of apartments: 24
– Number of rooms: 2 or 3
– Total surface area: From 195m² to 260m².
Welcome to Bijou Résidence, where you'll discover oases of refinement and comfort. Our superb apartments on four levels offer an unrivalled living environment, combining elegance and modernity. Enjoy generous space, modern amenities and panoramic views of breathtaking natural landscapes.
High-end apartments
Bijou Résidence apartments have been designed with attention to detail to offer a luxurious living environment. Each high-end property provides a pleasant sense of space and is equipped with modern amenities for a peaceful and inspiring lifestyle. Large double-glazed windows and doors let in natural light while offering magnificent views of the surrounding area.
A Harmonious Lifestyle
Les espaces intérieurs décloisonnés créent un lien harmonieux entre la cuisine moderne d'inspiration "mid-century" et les espaces de vie lumineux. These inviting spaces are perfect for socializing with family and friends. You'll feel at one with your surroundings, thanks to a wrap-around balcony accessible from en suite rooms. Removable partitions and overhangs also promote natural ventilation and reduce heat build-up.
Refinement and comfort are essential for an unrivalled living experience, which is why our top-of-the-range apartments offer generous space, modern amenities and a seamless connection with the surrounding nature. Opt for a harmonious and inspiring lifestyle in a luxurious oasis in Mauritius.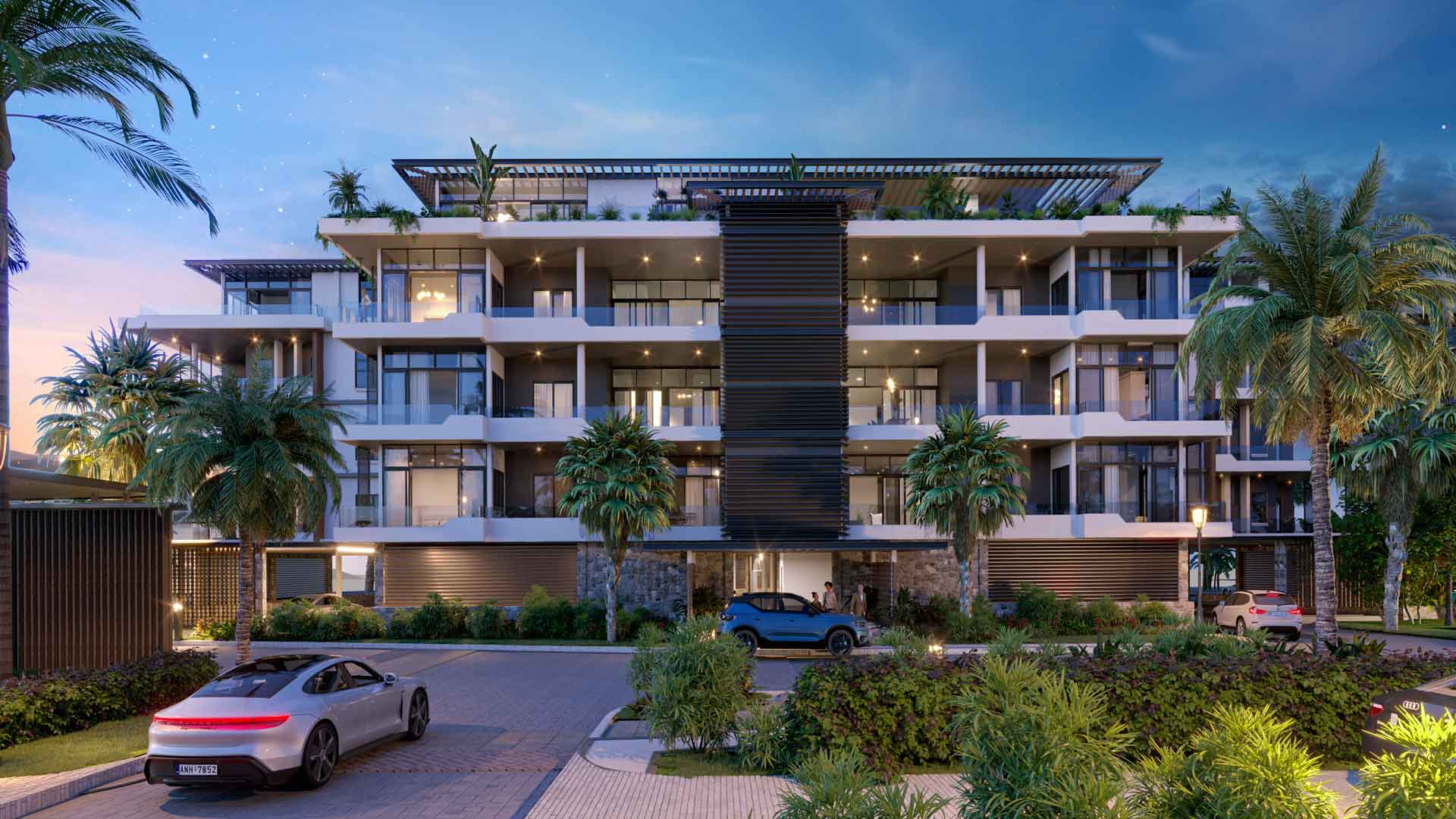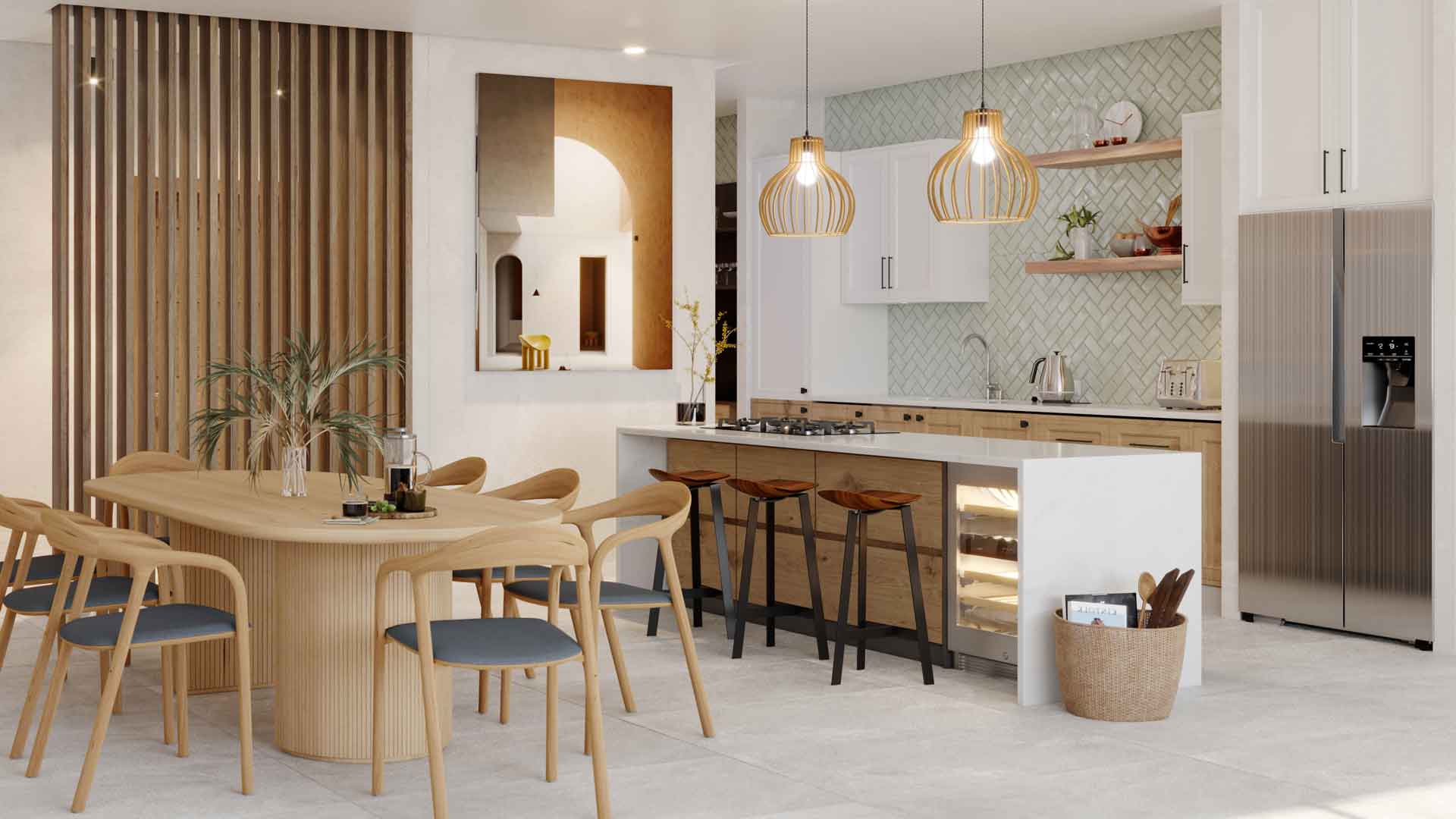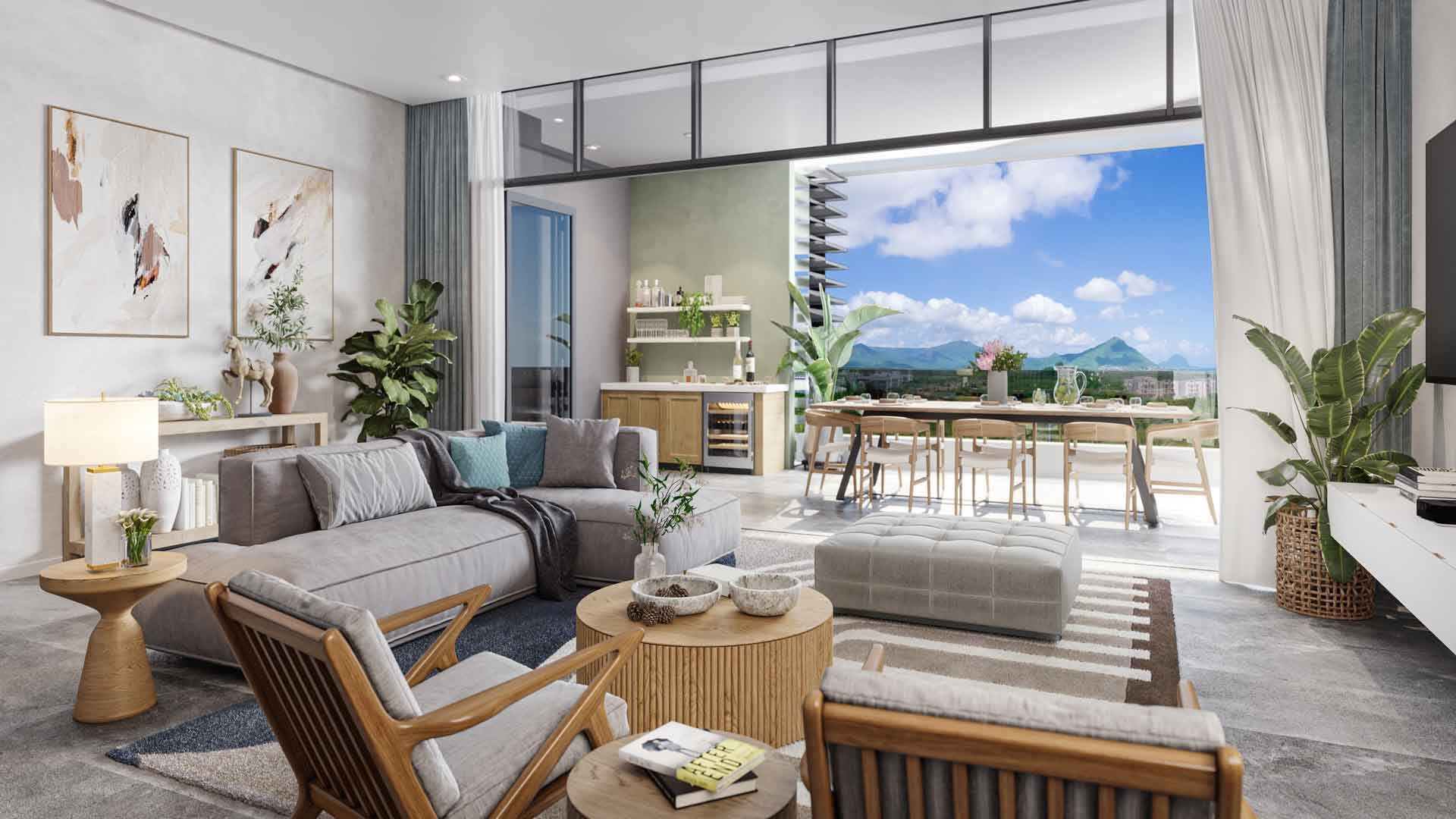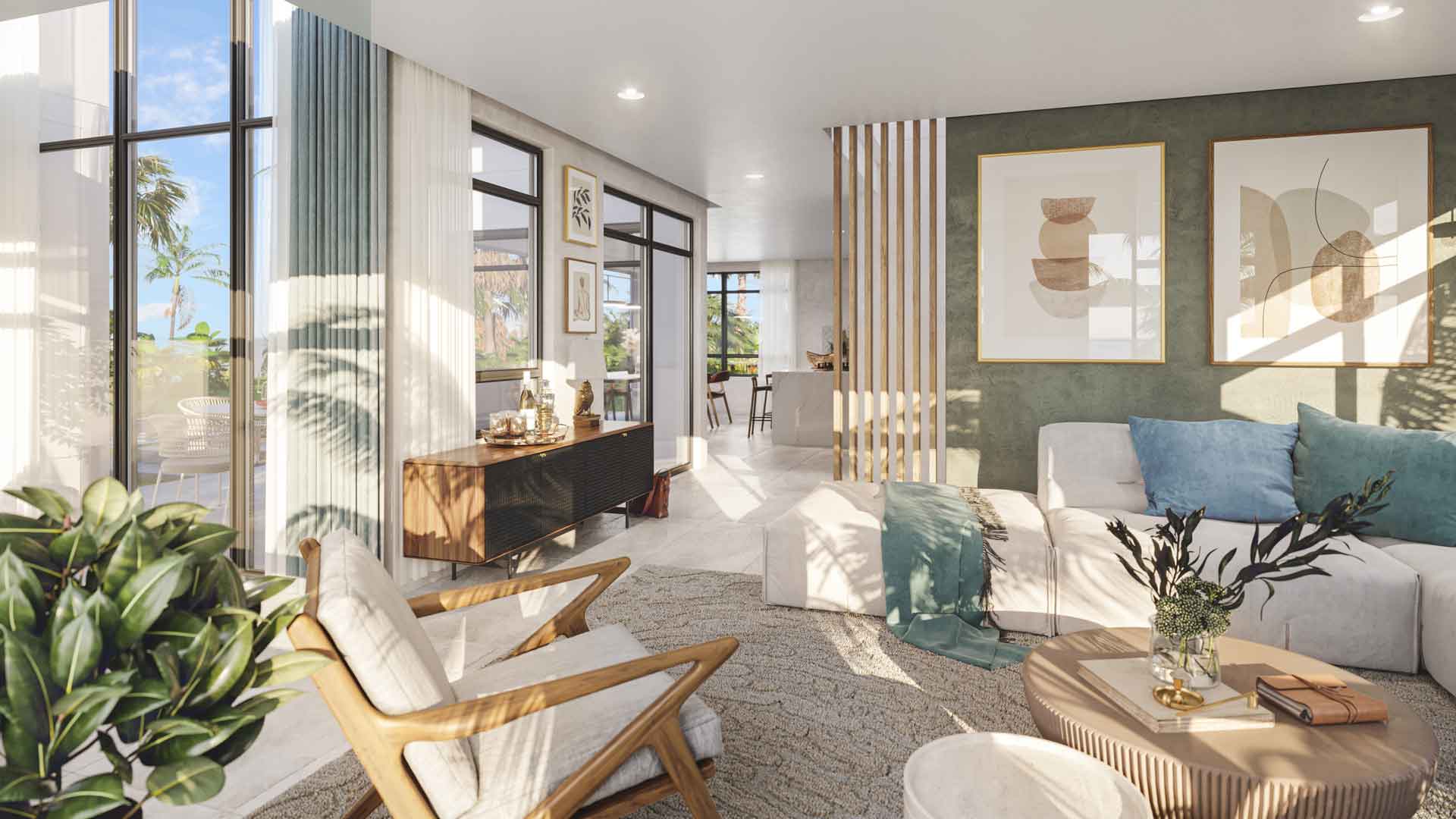 PENTHOUSES Bijou Residence
Penthouse features
– Number of penthouses: 4
– Number of rooms: 3 or 4
– Total built area: from 395 m² to 520 m².
Discover the ultimate expression of tropical luxury with Bijou Résidence's sumptuous penthouses. Located on the top floor, these residences offer an elegant, relaxed ambience, combined with generous space and a sense of grandeur. Enjoy an exceptional lifestyle, both indoors and out, in spaces designed to share unforgettable moments and soak up the peaceful ambience of Mauritius.
Elegant and spacious interiors
Bijou Résidence penthouses are designed to combine elegance and space. Inside and out, you'll find plenty of space to share a meal, relax and enjoy the serene atmosphere. Lounges, bedrooms and offices offer warm, welcoming intimacy, opening onto private balconies or courtyards bathed in natural light and freshness, creating intimate corners for you to disconnect and relax.
Comfort and Luxury Features
Each penthouse is equipped with contemporary appliances for your utmost comfort. Enjoy a private swimming pool, barbecue area and open-air bar to admire the sunsets and entertain your loved ones in a convivial atmosphere. Fully equipped kitchens with top-of-the-range appliances, air conditioning in all rooms and ceiling fans in living areas ensure a luxurious and enjoyable living experience.
Customization options
We offer you the possibility of personalizing your penthouse with optional turnkey furniture and decoration packages. In this way, you can create a space that reflects your image, tastes and preferences.
Bijou Résidence's penthouses are a haven of tropical luxury. Enjoy the elegance, comfort and generous space they offer. With upscale features, contemporary amenities and breathtaking views, these residences embody the epitome of exquisite lifestyle in Mauritius. Opt for exclusivity and serenity by choosing one of our dream penthouses, where luxury and nature come together harmoniously.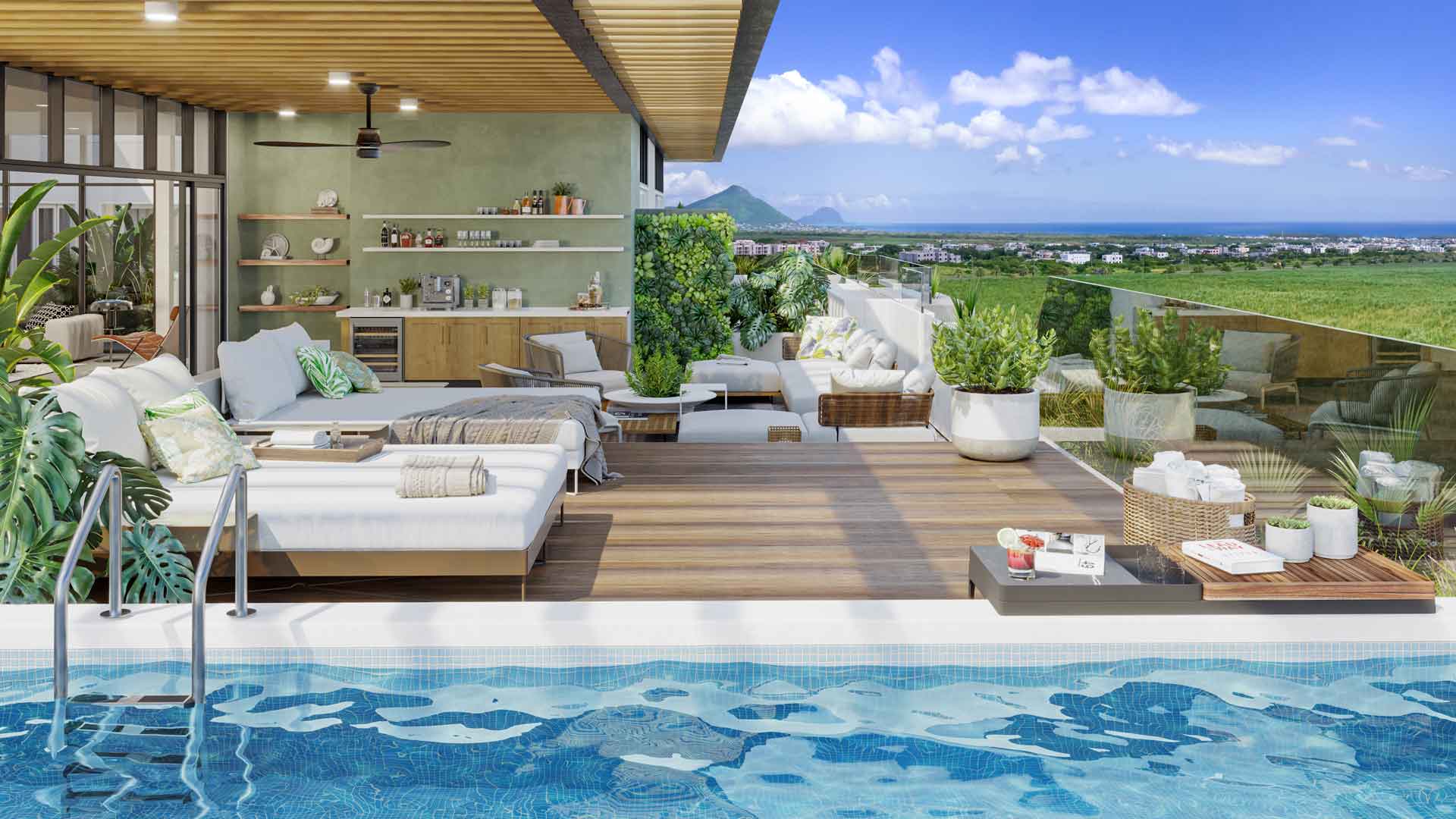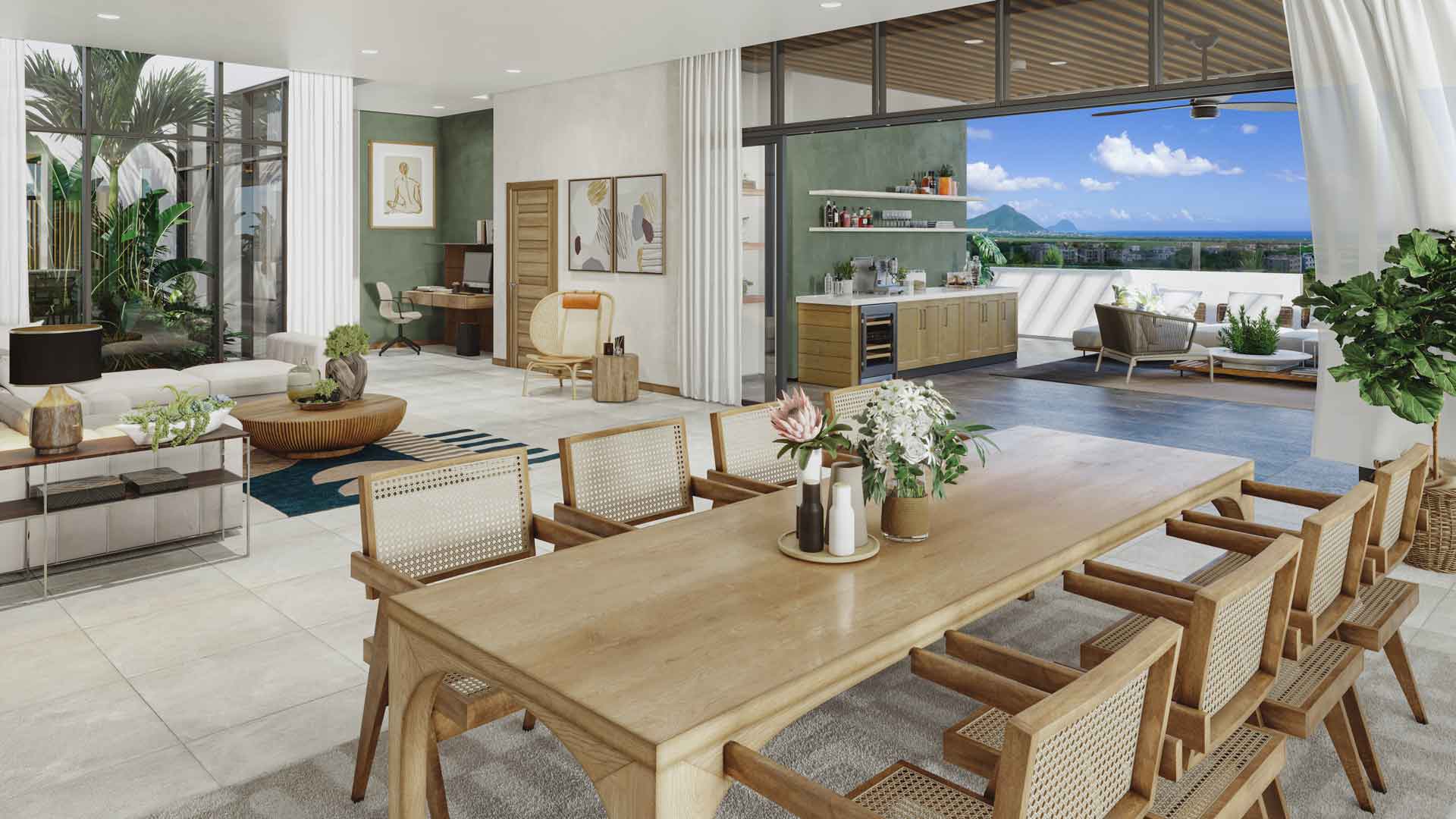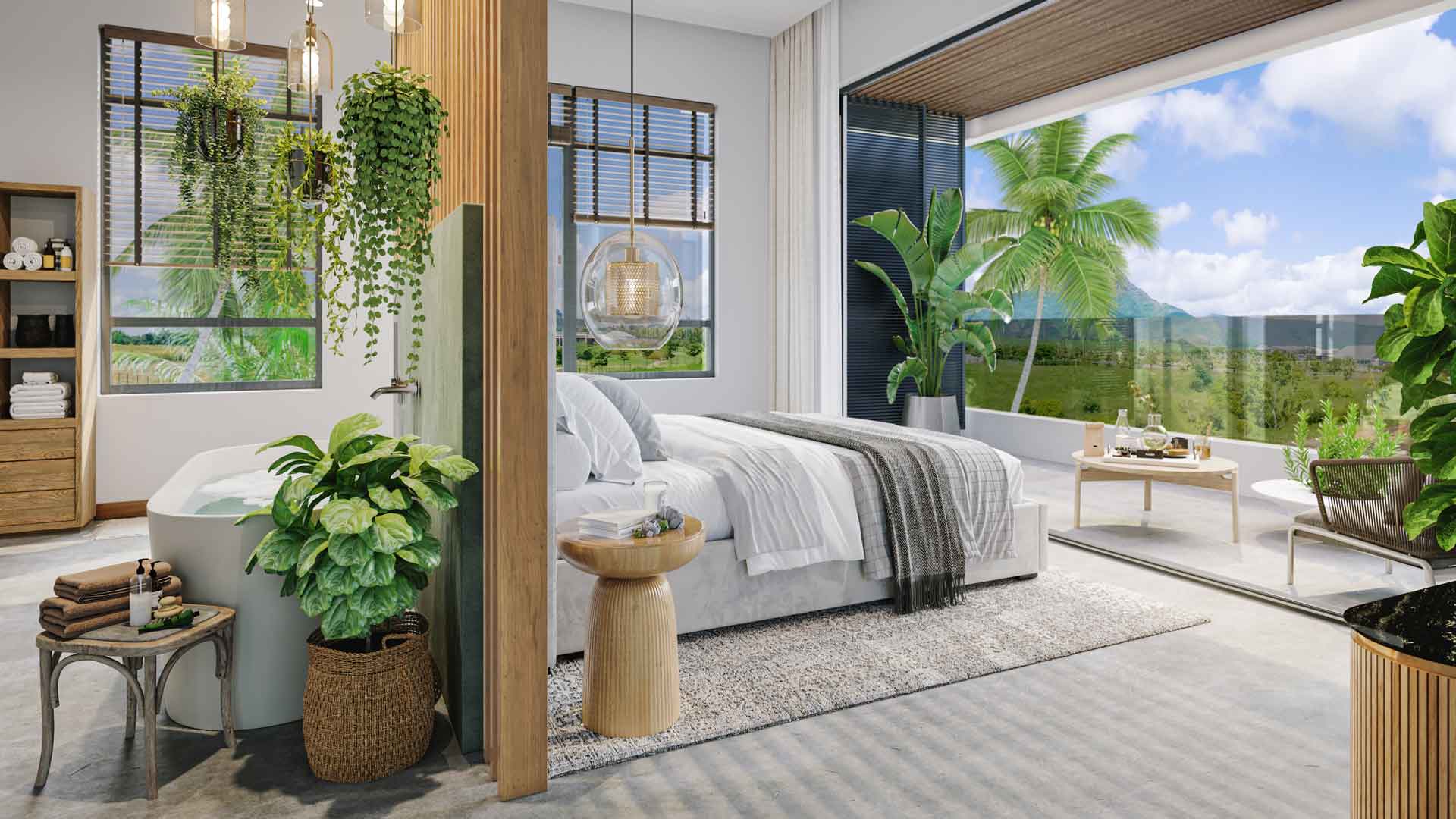 Villa Features
– Number of villas: 8
– Number of rooms: 4
– Total built area: 450 m² to 480 m².
Welcome to the world of two-storey villas, carefully designed for the most discerning buyers in search of exclusivity, serenity and modern comfort.
Immerse yourself in a setting where nature reigns supreme, as these sumptuous homes seamlessly merge indoors and out, creating the perfect balance between privacy and outdoor living.
Luxurious residences
The villas have been meticulously designed to offer an exceptional residence. As soon as you enter, you'll be greeted by a double-height vestibule leading to spacious lounges and warm living spaces. The second floor offers a modular space that can be used as a relaxation area, home office or additional bedroom, providing ideal flexibility to suit your needs.
Perfect balance between indoors and outdoors
They are designed to merge interior and exterior in harmony. Private balconies offer views of lively leisure areas, carefully landscaped gardens and a resplendent pool to cool off in. Enjoy outdoor living without compromising your privacy, thanks to a thoughtful layout that puts comfort first.
Secure garage and storage space
Another exclusive feature of the villas is a secure double garage, offering integrated storage space for your belongings, allowing owners to enjoy their second home with peace of mind.
Customization options
To make sure your villa reflects your image, we offer optional turnkey furniture and decoration packages. So you can personalize your space to suit your tastes and preferences.
Immerse yourself in the exclusivity of Bijou Résidence's sumptuous villas, where luxury and nature combine to create an exceptional living environment.
The two-storey villas offer the perfect balance between privacy and outdoor living, in an environment of refinement and serenity. Take advantage of our spacious and elegant spaces, designed to meet your needs and desires. Opt for the life of your dreams in the heart of nature with Bijou Résidence.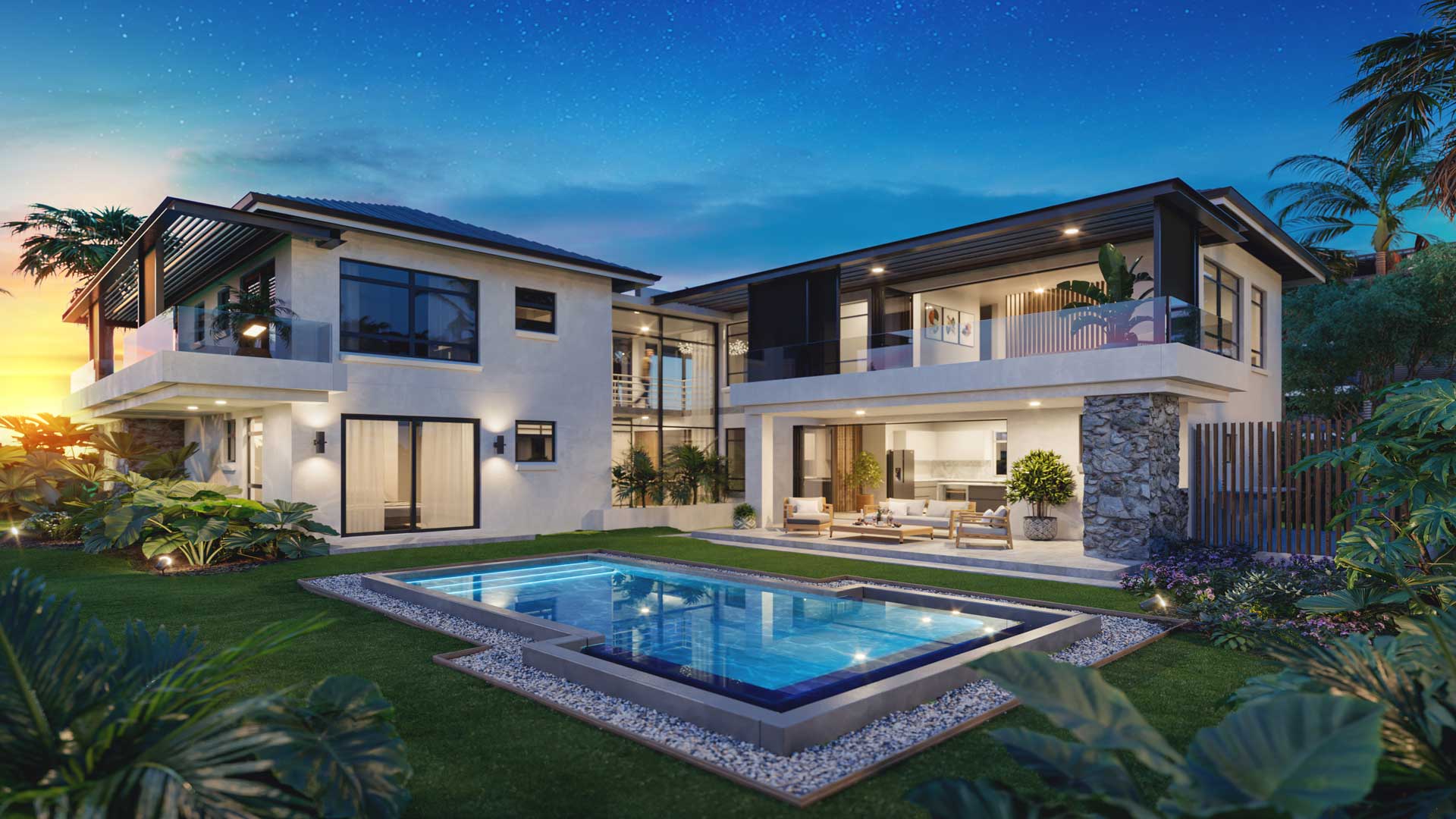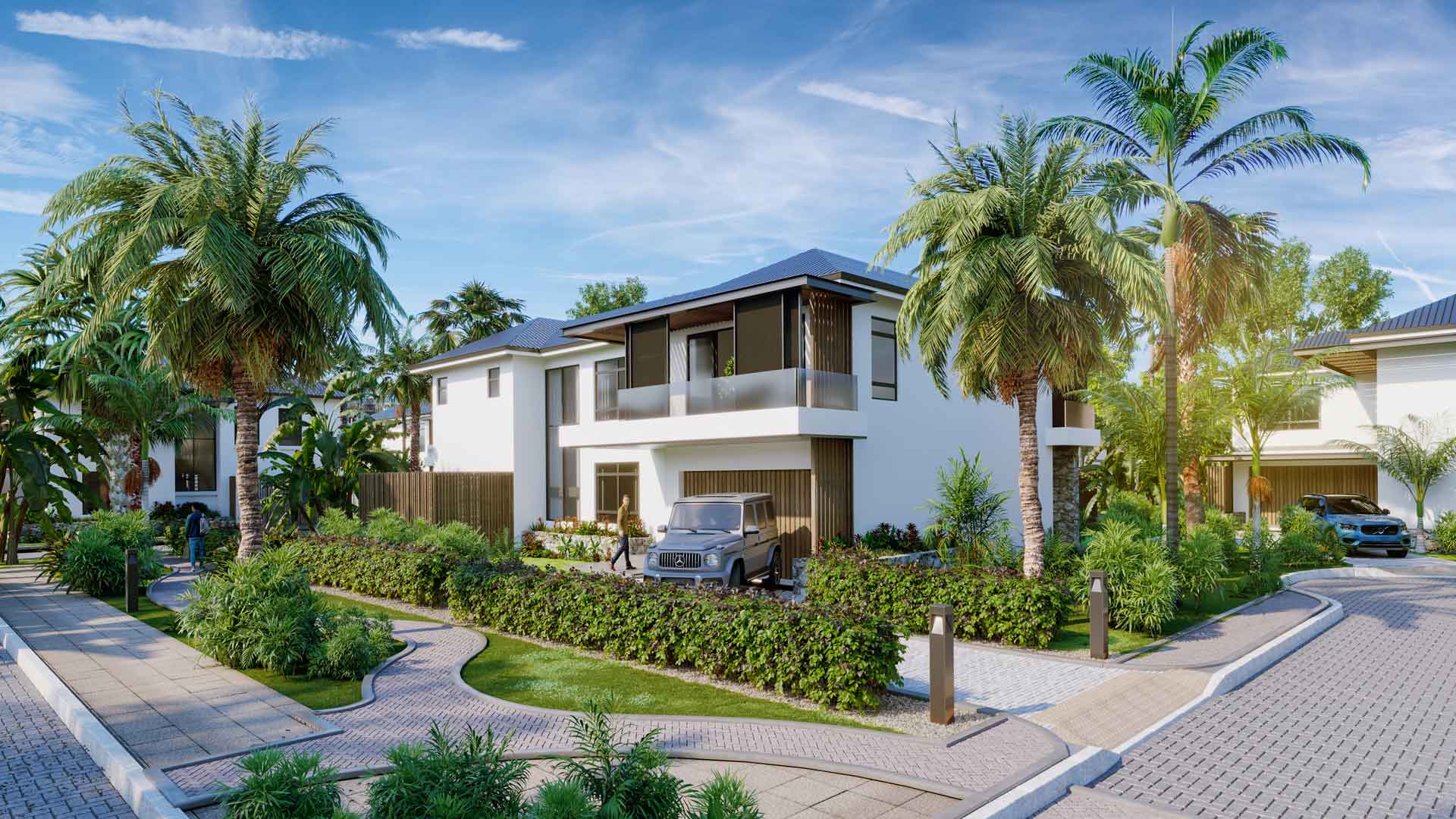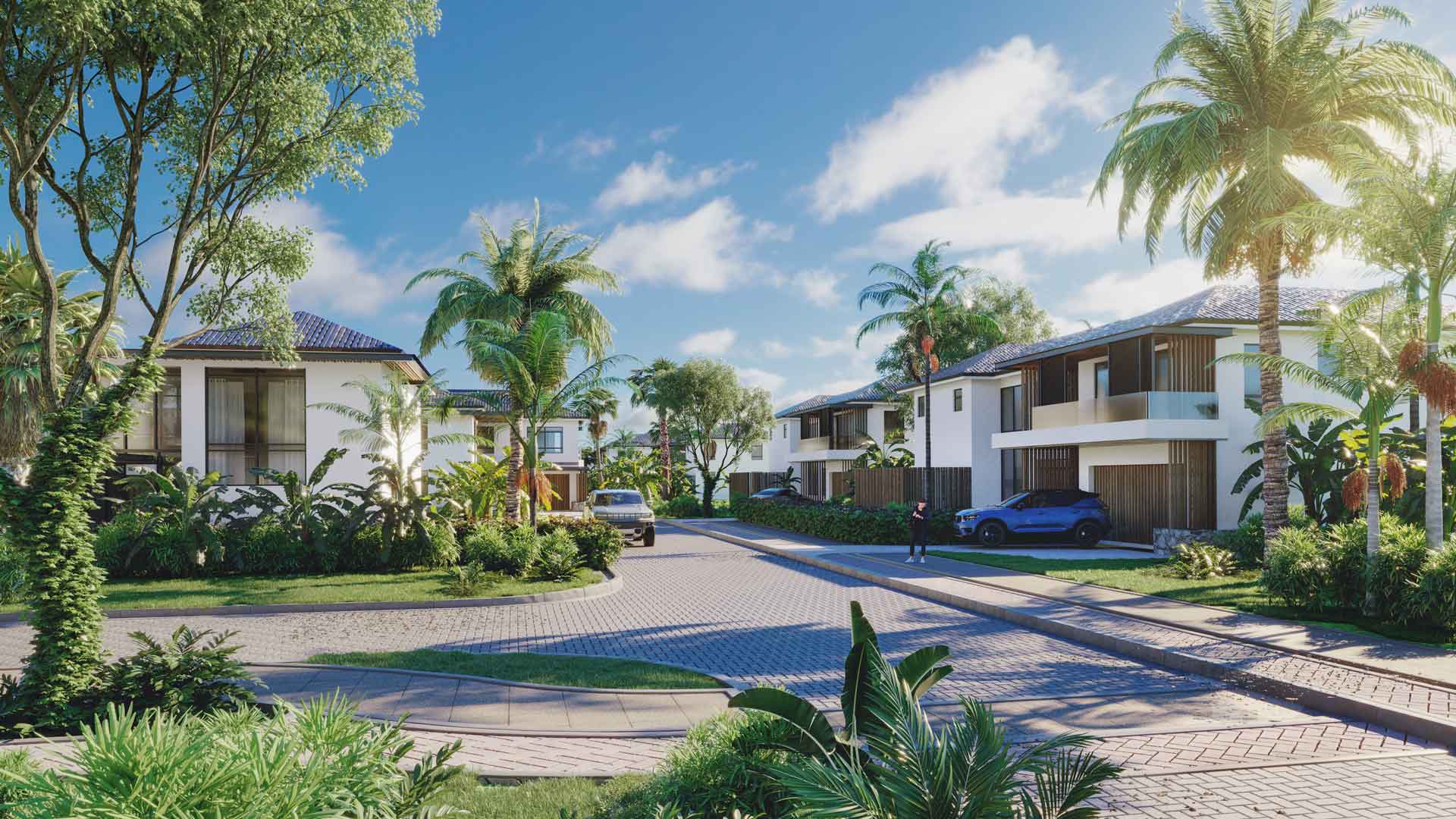 CUSTOMIZED TURNKEY SOLUTIONS
Bijou Résidence offers homeowners the opportunity to furnish their home as they wish, adding their own personal touch with our optional furniture package.
A custom-made furniture package
The bespoke furniture pack is specially designed to meet your needs and preferences.
Choose from a selection of high-quality designs, shapes, colors and finishes.
Whether you're looking for a modern, contemporary style, or a more classic design, our range of choices will enable you to personalize your home to suit your tastes.
Creative freedom
Bijou Résidence makes it a point of honor to respect your creative freedom. You can choose every detail, from furniture to accessories, to create an interior that reflects your personality and makes you feel at home from day one.
Superior quality
Great importance is attached to the quality of materials and finishes, and the furniture package is made up of top-quality components to ensure your long-term comfort and satisfaction.
Take advantage of our turnkey service
To facilitate the process, a dedicated team will be on hand to guide you in your choices and offer you a turnkey service.
They'll make sure your vision becomes reality, on time and on budget.