A comprims-free life facing the ocean

LA RESERVE Balaclava
5-star luxury living
LA RESERVE Balaclava
ACCESSIBLE TO FOREIGNERS with residence permit for the whole family
NO AGENCY FEES
Apartment : From 725 000 €
Penthouse : From 1 700 000 €
Discover La Réserve Balaclava: The Harmony of Tropical Luxury
Welcome to La Réserve Balaclava, where modernity meets tropical spirit for an exceptional residential experience. Our residence is distinguished by its seaside architecture, with 22 apartments and 6 sumptuous penthouses. The art of well-being is at the heart of our approach, reflected in our tropical architectural design, clean lines and the use of meticulously meticulously selected materials. This harmony between interior and exterior creates total immersion in a verdant environment, elevating your daily life.
A haven of comfort and luxury
Imagine your feet in the water, lulled by the gentle murmur of the waves and sheltered under the coconut palms of our private beach. The Balaclava Reserve invites you to live in the absolute comfort of tropical luxury. These moments of escape will become your daily routine, giving you an instant sense of home, where luxury enhances every aspect of your experience.
A World of Possibilities Within Your Reach
Nestled near prestigious 5-star hotels, La Réserve Balaclava offers privileged access to a multitude of experiences. Relax at the spa, get adventurous with exhilarating water activities or discover a culinary palette rich in flavors, from Indian cuisine to Creole fusion. Meet a cosmopolitan population, swim with dolphins, explore heavenly flora or simply soak up the sun. Just a 15-minute drive away, discover vibrant Grand Baie, the coastal entertainment mecca to the north, or head south to Port Louis, the economic capital. The island is yours to explore, with a wealth of visits and activities.
Spectacular views of a Tropical Paradise
Invite family and friends to share memorable moments in front of the captivating sunsets that paint the lagoon in golden hues. The Balaclava Reserve offers breathtaking views worthy of a tropical paradise. Our residences will become the ideal setting for creating authentic memories, while you enjoy special moments with your loved ones.
At La Réserve Balaclava, every detail is designed to offer you a luxurious lifestyle in harmony with the surrounding natural beauty. Discover the perfect fusion of modernity and tropical spirit in a place where comfort and exclusivity meet. Experience La Réserve Balaclava, an address that defines luxury in a unique tropical setting. Contact us today to make your dream of an exceptional residence in Mauritius a reality.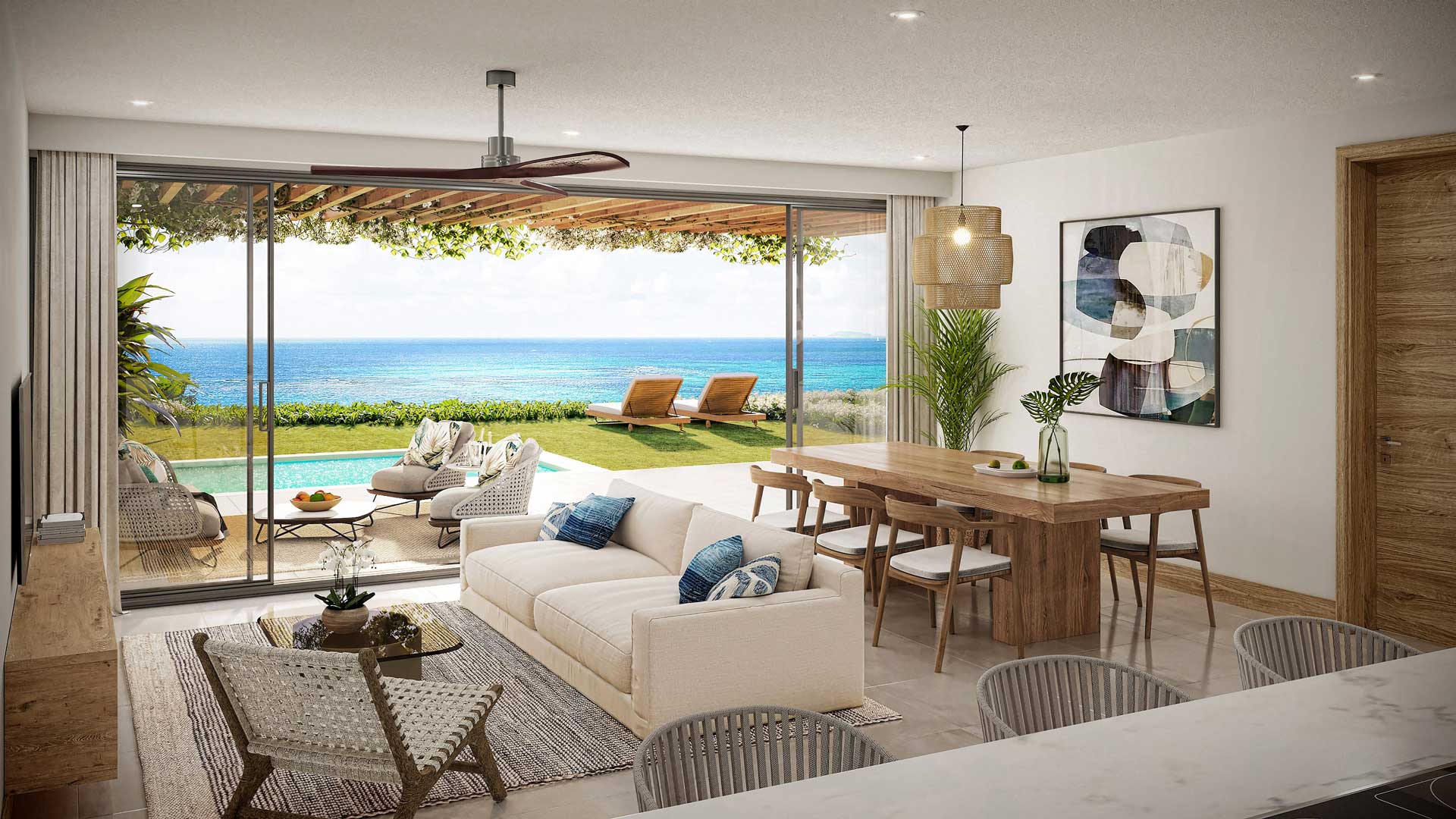 Bathed in Natural Light – A Spacious Apartment for Entertaining
In every nook and cranny of this apartment, natural light dances around and generously illuminates the space, creating an atmosphere that's both warm and welcoming. Here, the art of entertaining takes on a new dimension, as this space has been designed with a generosity that allows memorable moments to be shared with family and friends.
Every room, from the living room to the bedrooms, has been designed to offer you a spacious space where life flows freely. Vast openings and intelligent layouts allow natural light to flood the apartment, creating a soothing ambience that inspires serenity and well-being. Whether you're looking for a joyful gathering or a moment of relaxation, every corner of this space has been designed to suit your needs.
The apartment's furnishings and equipment have been chosen with meticulous care. The colors and textures chosen blend harmoniously with the surrounding natural environment, creating a subtle link between indoors and outdoors. The design, both warm and sophisticated, reflects a contemporary aesthetic that transcends ephemeral trends to offer timeless elegance.
The kitchen, although out of sight, also deserves your attention. It is part of the prestigious Snaidero range, renowned for its exquisite Italian design and exceptional quality. It embodies the perfect fusion of functionality and aesthetics, creating a space where meal preparation becomes a pleasure in itself.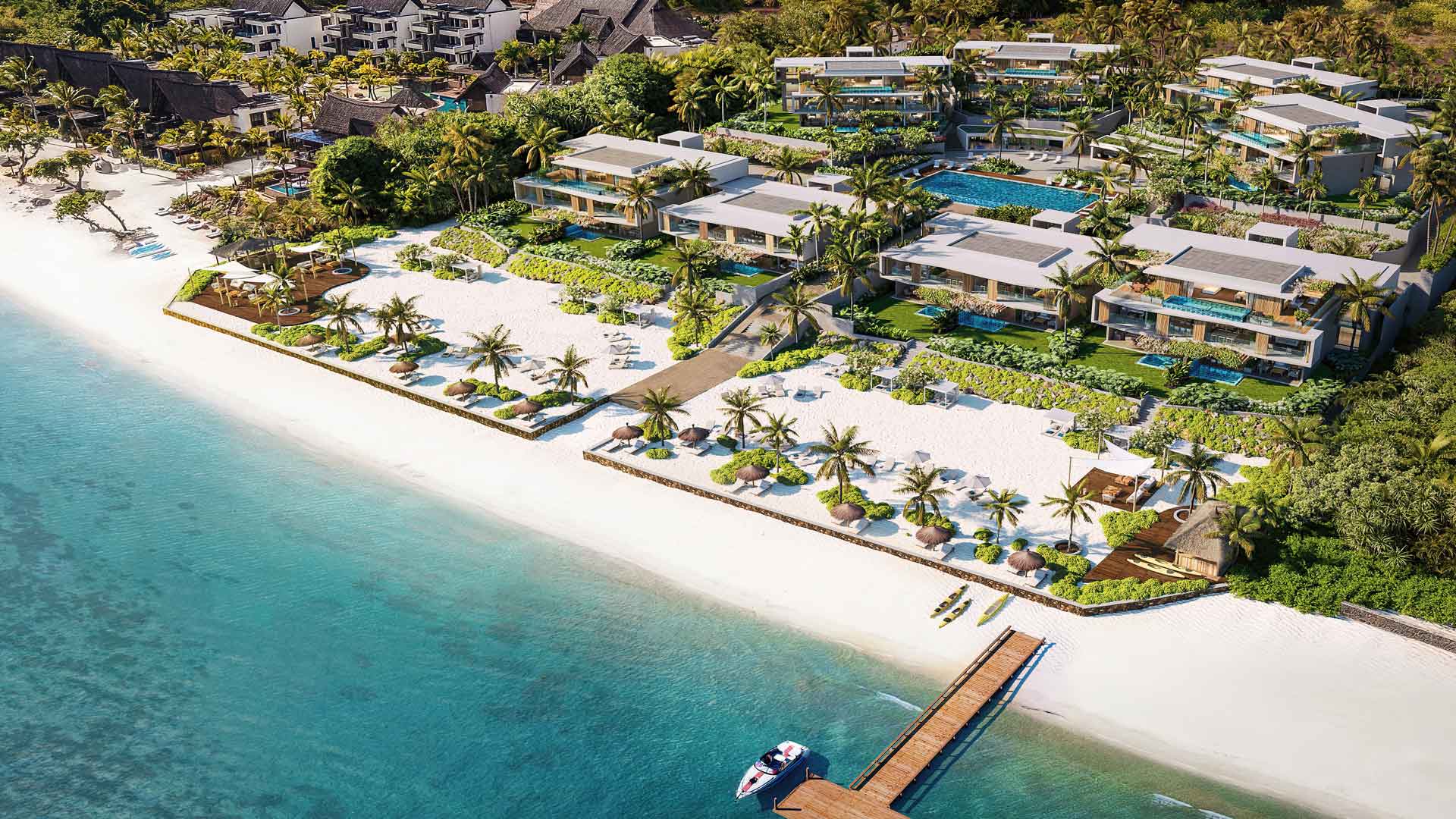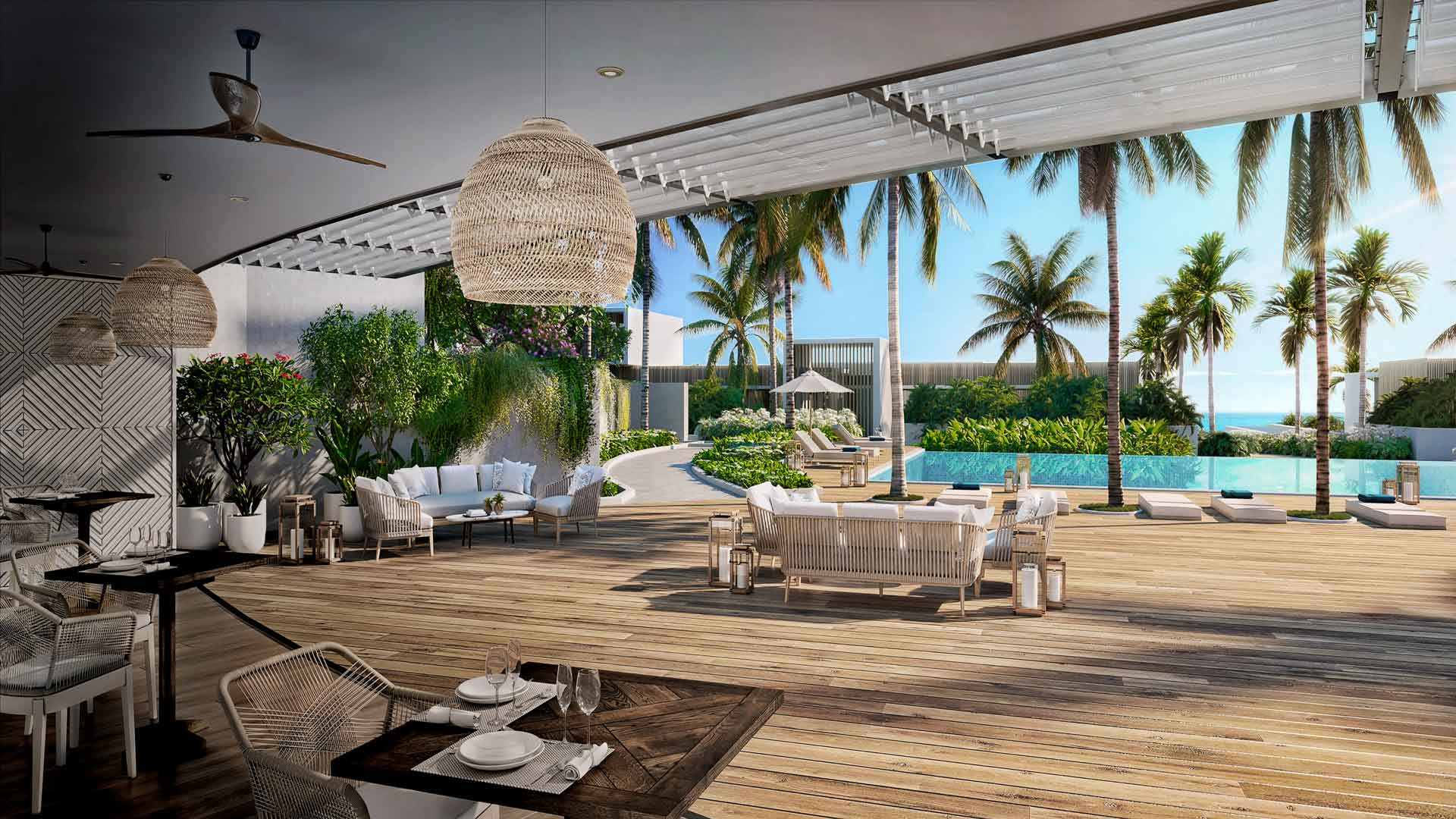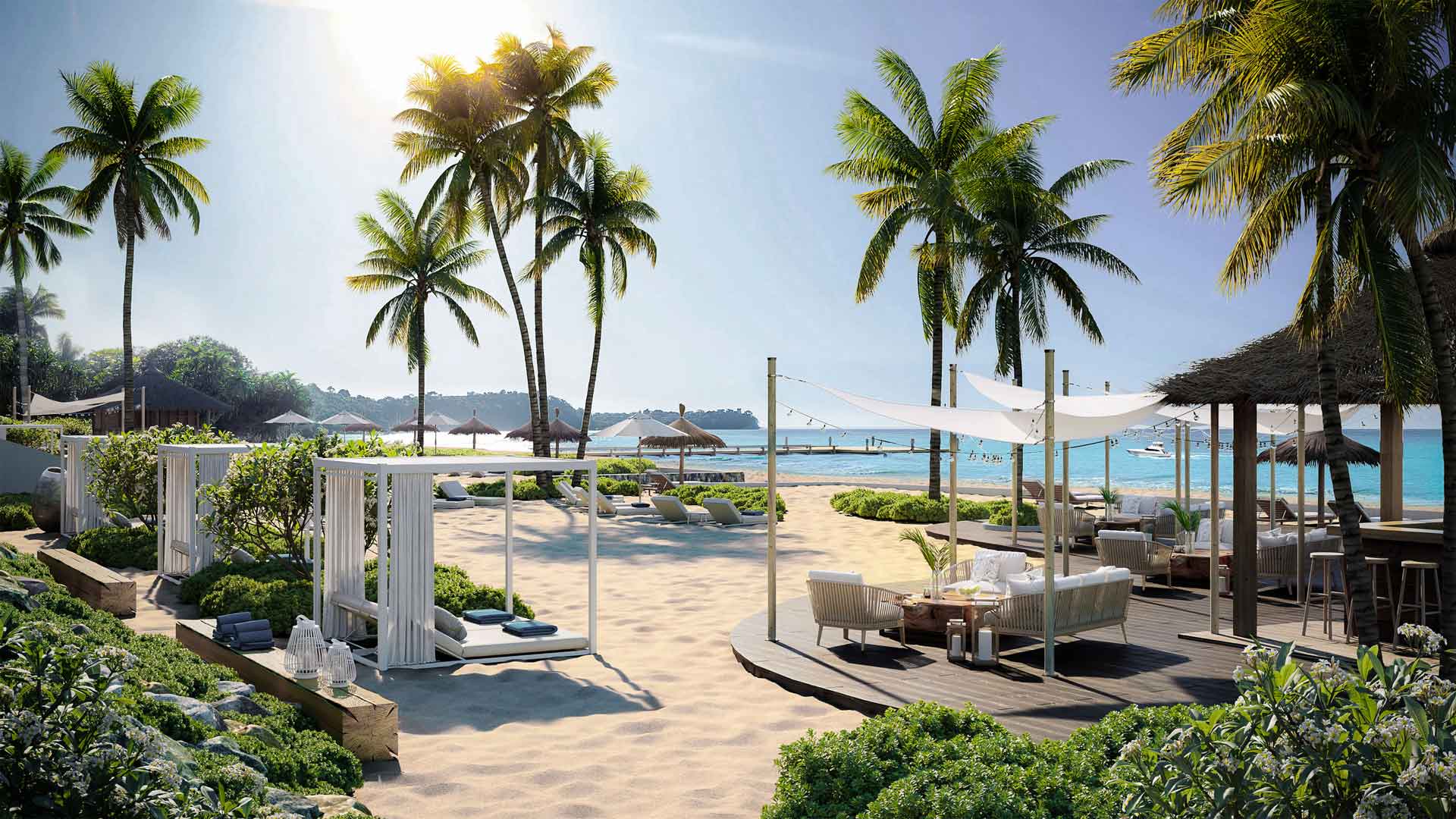 THE APARTMENTS at La Réserve Balaclava

Details in brief
– Number of apartments: 22
– Number of bedrooms: 3
– Total built area: 180 m2 seafront or sea view
Garden apartment: Your private oasis with swimming pool
Discover the ultimate garden-level living experience at La Réserve Balaclava, where your tranquility and comfort are paramount. This exclusive apartment opens the door to a privileged living space, where a perfect balance of greenery and relaxation awaits you.
Your Space of Serenity
This garden-level apartment offers direct access to a private green space. Imagine waking up every morning to a soothing view of nature, surrounded by a green oasis that transports you to a world apart. Enjoy moments of tranquility and rejuvenation in your own personal corner of paradise.
Piscine Privée: Luxury and Leisure at Your Fingertips
One of the exceptional features of this apartment is access to a private swimming pool. Take a dip in its refreshing waters to relax after a busy day, or sip a cocktail while watching the magnificent sunset. This pool becomes your haven of relaxation and pleasure, to be enjoyed at your own pace and to your heart's content.
Living in this garden apartment means embracing a life where nature meets elegance, tranquility reigns supreme and luxury is within reach. Discover the quintessence of tropical comfort and contact us today to find out more about this unique opportunity to reside in a setting where every day is a celebration of beauty and well-being.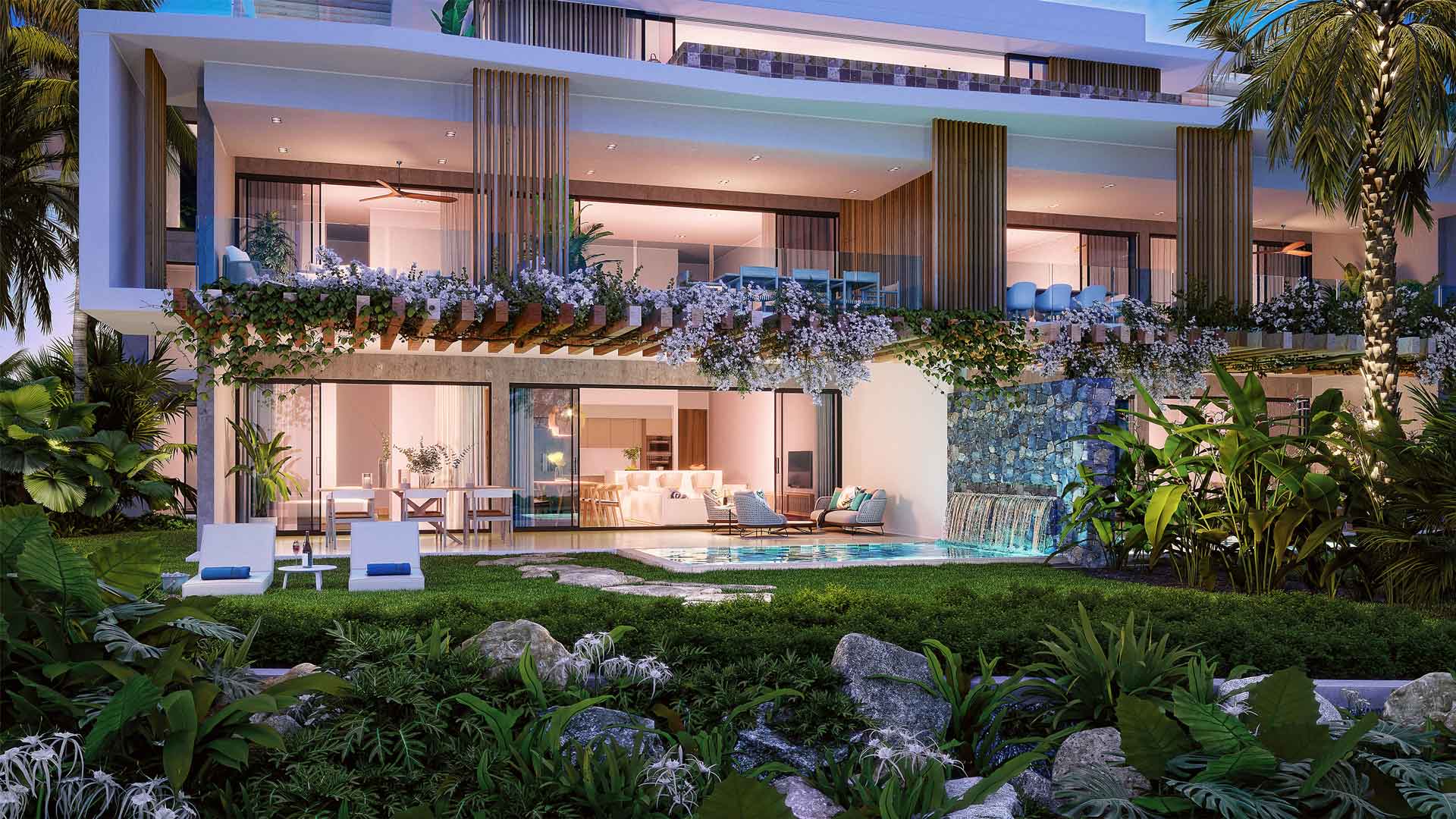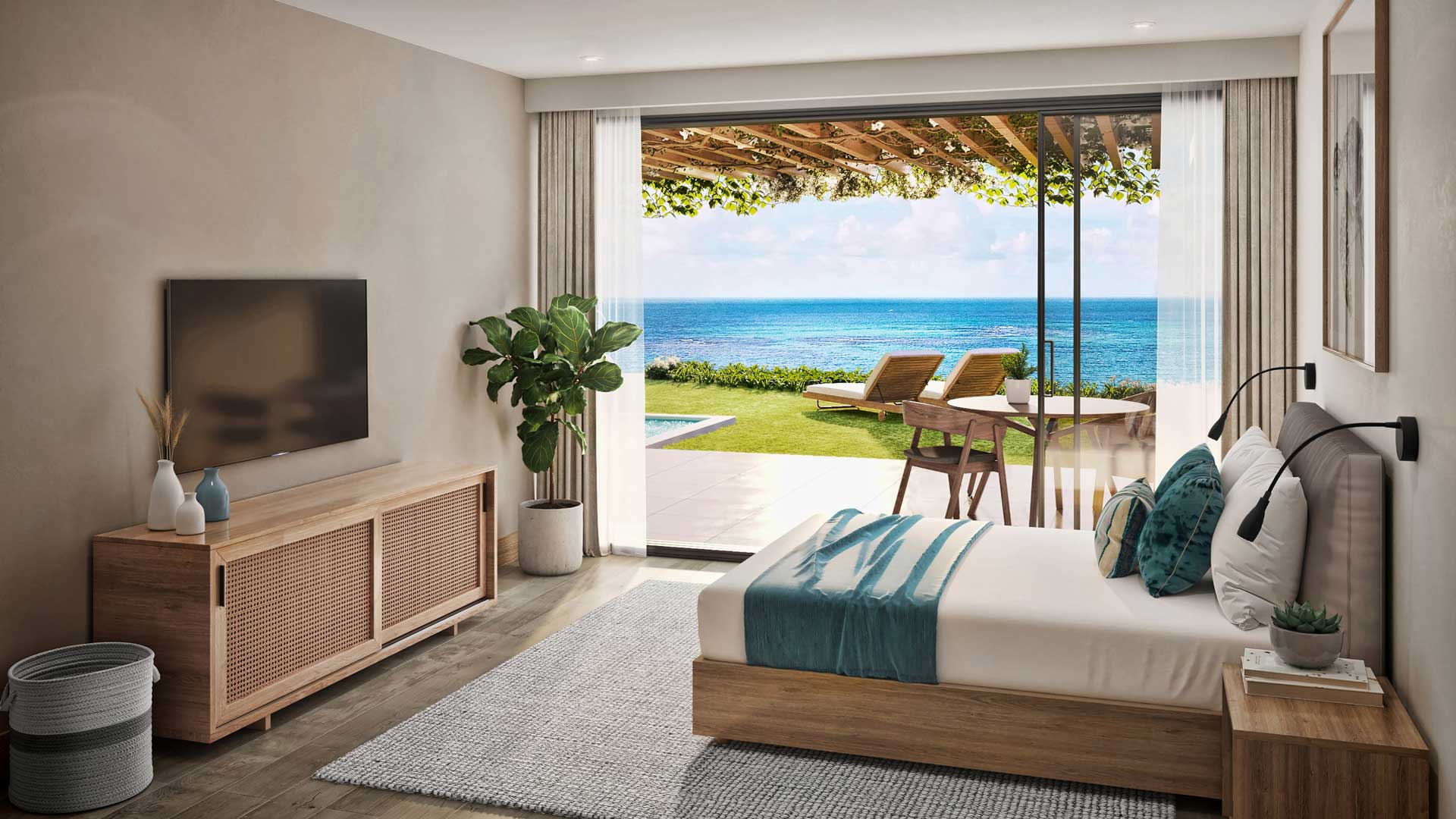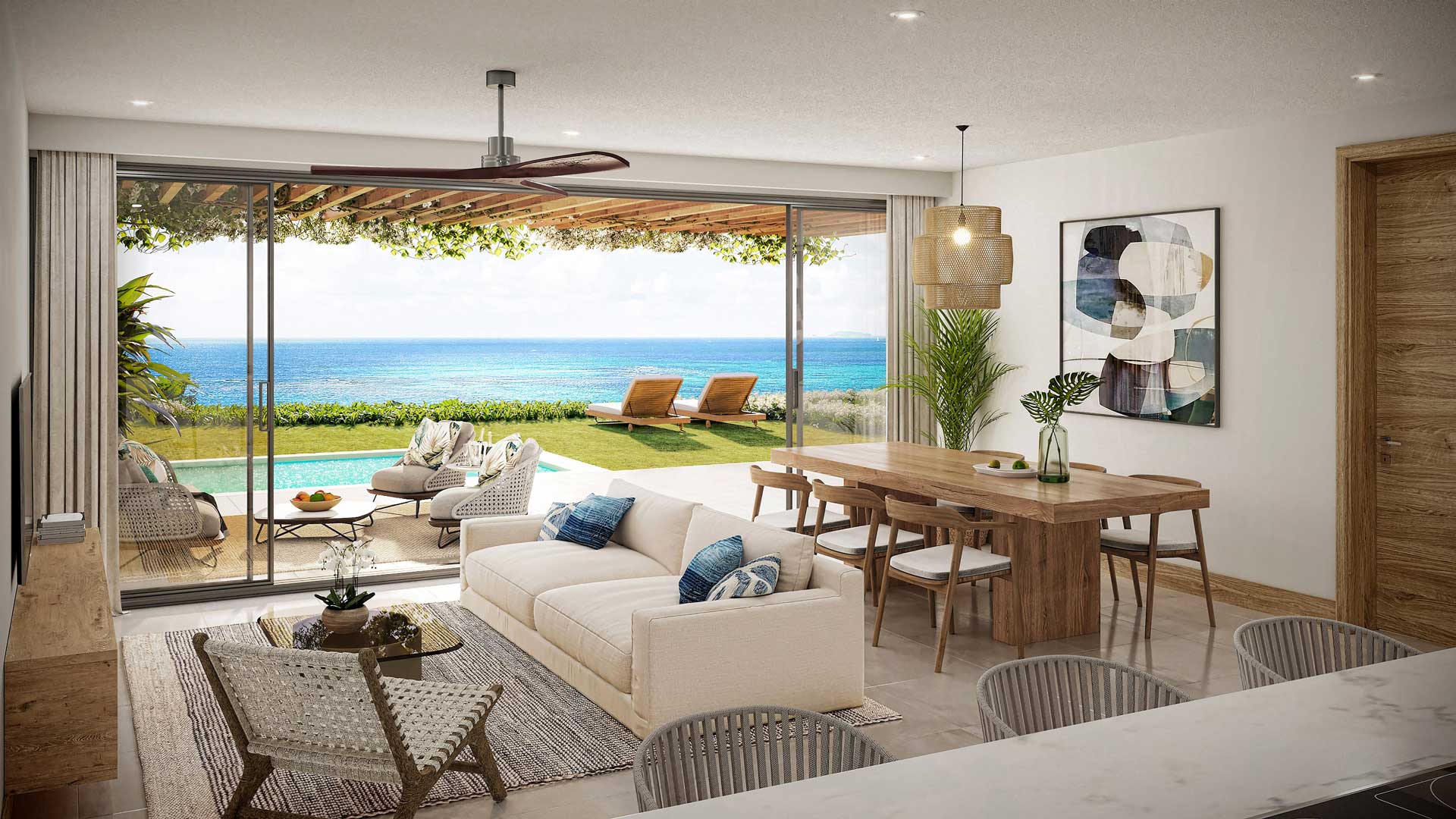 PENTHOUSES La Réserve Balaclava

Penthouse features
– Number of penthouses : 6
– Number of bedrooms: 3
– Total built area: 370 m2
Exceptional Penthouse: Elegance, View and Unparalleled Luxury
At the summit of La Réserve Balaclava, our penthouse invites you to enjoy an enchanting residential experience where refreshing sea breezes, open design and luxury merge harmoniously. Designed to capture the quintessential tropical lifestyle, our penthouse offers vast spaces and unparalleled fluidity, connecting the kitchen to a spacious terrace.
Brightness and conviviality: The open kitchen
The heart of this penthouse is an open kitchen that becomes a leisure space in its own right. Flooded with natural light, it's the ideal place for family meals or relaxing with friends. Featuring state-of-the-art equipment and top-of-the-range fittings, this kitchen offers all modern comforts, complemented by a magnificent view from the penthouse heights. Imagine yourself cooking while enjoying a breathtaking panorama.
Luxury Service and Comfort at Home
Your penthouse experience is enhanced by service worthy of 5-star hotels. Our dedicated butler is on hand to attend to your every need, ensuring personalized attention and unrivalled comfort. You'll have the best of both worlds: the sophistication of hotel service and the warm intimacy of home.