Villa private homes
one&only Saint Géran
Luxury & Refinement
Private Homes One&Only
ACCESSIBLE TO FOREIGNERS and WITHOUT AGENCY FEES
Welcome to a world of luxury and exclusivity on Mauritius, where you can own your own piece of tropical paradise. Discover the unique collection of 52 One&Only Private Homes, an exceptional real estate investment opportunity by the sea, designed to meet all your family's desires.
Nestled on an exclusive peninsula, the One&Only Private Homes on the incredible Le Saint Géran estate offer a truly enchanting setting. Surrounded by the warm waters of the Indian Ocean and an azure lagoon, these prestigious villas are the first of their kind anywhere in the world.
Each Private Home is a unique work of art, carefully designed to blend harmoniously with the island's natural environment. Remarkable privacy, comfort and space are at the heart of their design, allowing you to escape to a haven of peace. Imagine sunbathing on your private terrace, sipping cocktails by your sparkling pool and enjoying delicious outdoor food with loved ones.
These exceptional homes are available in five different configurations and two architectural styles, offering you a variety of options to personalize your living experience. Each residence features a private swimming pool for refreshing moments of relaxation, spacious shaded terraces where you can recharge your batteries, and lush gardens that surround you with natural beauty.
When you become the owner of a One&Only Private Home, you gain access to a lifestyle like no other. Enjoy the wonders of Mauritius on your doorstep, from crystal-clear white sand beaches to lush tropical landscapes and thrilling water sports. You'll also be pampered by the exclusive services offered by One&Only Le Saint Géran, where your satisfaction is our top priority.
Don't miss this unique opportunity to become the owner of a real estate gem on Mauritius. One&Only Private Homes are luxurious retreats that exceed all expectations, offering you an uncompromising lifestyle in idyllic surroundings. Make your dream come true and invest in a true tropical paradise.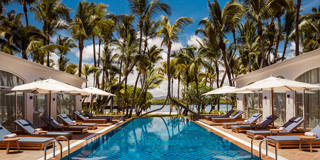 Located on a secluded peninsula surrounded by white sand, One&Only Le Saint Géran is a luxury resort hotel. With 142 recently renovated rooms in a contemporary colonial style, the hotel offers a unique experience. Activities include water sports, diving and sea excursions, as well as visits to nearby islands and fishing villages. In addition, the Kids Only Club and One Tribe teen center are available for young travelers. Enjoy an exceptional adventure and relax in this tropical paradise