Upscale residence
NAUTICA Villas
ACCESSIBLE TO FOREIGNERS with residence permit for the whole family
NO AGENCY FEES
Discover an exclusive and renowned residence ideally located in the north of the island.
This upscale property offers an exceptionally intimate setting where nature takes center stage. The sumptuous 3-bedroom villas, with a generous surface area of 237m2, will seduce you with their visionary architecture that elegantly integrates environmentally-friendly materials. Immerse yourself in a true source of inspiration, a model of sustainable living that perfectly harmonizes comfort, well-being and refinement. Explore residential excellence in an enchanting environment.
VILLAS CONTEMPORAINES – Quality features and chic design
Discover our contemporary villas offering top-quality amenities. With their large bay windows opening onto the garden and swimming pool, these 237m2 villas offer spacious, bright living spaces.v
The bedrooms, including a stunning 35m2 master suite, have been carefully designed down to the smallest detail. Enjoy modern design, chic and modern furnishings, and aesthetic and functional interior spaces where noble and sustainable materials, such as bamboo, have been favored to respect our environment.
ECOLOGICAL PROJECT
– Living in harmony with nature [strong, lb] Live in an ecological villa designed to minimize pollution and energy losses. Our team of experts in engineering, architecture and construction worked on a well-thought-out concept.
Bioclimatic architecture adapts harmoniously to the natural environment, encouraging natural ventilation. Materials have been carefully selected to limit pollutants and use eco-labelled products.
Take advantage of renewable energy sources, such as photovoltaic panels and rainwater harvesting, as well as energy-efficient equipment.
This ecological architecture offers you a sustainable future, while ensuring your comfort and well-being.
EXCEPTIONAL FACILITIES
– Your oasis of well-being [strong, lb] Enjoy the exceptional facilities offered by our exclusive residence. A gym is available for daily exercise to keep you in shape.
What's more, our spa offers you a wonderful, serene place to relax in elegant surroundings. Pamper your body and recharge your batteries in this oasis of well-being, specially designed for residents.
BEACH CLUB
– A unique experience on one of the island's most beautiful beaches [strong, lb] Discover the Beach Club, nestled on the magnificent Trou-aux-Biches beach, considered one of the most beautiful on the island.
Soak up the enchanting atmosphere of this enchanting place, where you can enjoy a range of exclusive services. With a breathtaking view of the ocean, relax and enjoy an exquisite tropical cocktail in a warm and friendly atmosphere.
Our bar offers unique creations, allowing you to discover new flavors and enjoy an unforgettable taste experience. Immerse yourself in an exceptional experience, where every moment is precious, in an intimate setting conducive to escape and relaxation.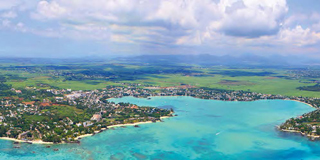 Welcome to the cheerful seaside village of Grand Baie, where exclusive villas invite you to live an extraordinary lifestyle experience! Imagine enjoying thrilling water sports, tasting delicious food in renowned restaurants, shopping in trendy boutiques and basking in radiant sunshine all year round.
And guess what? All this is less than 5 minutes from your private oasis!
Grand Baie, the preferred place of residence of Mauritians and expatriates, is like a dream come true. With breathtaking beaches within easy reach, this lively village offers an incomparable quality of life. It's a true tropical paradise where you can live every moment to the full. Imagine sipping an exotic cocktail on the beach, relaxing in a festive atmosphere and enjoying the natural beauty that surrounds you.
Prepare to be enchanted by Grand Baie's irresistible charm! This is where the magic happens, offering the perfect balance between an idyllic setting and a hectic lifestyle. Whether you're a native Mauritian or an expatriate, you'll fall in love with this unique village that embodies joie de vivre. Welcome to your new home, where every day is an exciting adventure to enjoy!