On a mountainside with a unique view
AMARI BAY
Luxury, nature and refinement
AMARI BAY
ACCESSIBLE TO FOREIGNERS with residence permit for the whole family
NO AGENCY FEES
Located on a mountainside and bathed in southern sea spray, Amari Bay is a true tropical paradise that's sure to amaze. Discover this enchanting location developed under the PDS regime, offering luxury properties comprising 6 luxury apartments, two villas and two exclusive penthouses. The spectacular view over Tamarin lagoon will make your heart beat faster.
Amari Bay's ideal location
Amari Bay's ideal location lends it a unique charm. Perched on the mountainside, this development offers breathtaking views of the surrounding area. Imagine contemplating the rolling landscape, verdant beaches and sparkling waters from your own private terrace. What's more, Amari Bay is caressed by southern sea spray, creating a refreshing and invigorating atmosphere.
But the real marvel of this place is the magnificent view over the Tamarin lagoon. Imagine waking up every morning to a breathtaking view of crystal-clear turquoise waters. You'll be able to relax and recharge your batteries as you contemplate this exceptional natural spectacle, just a stone's throw from your home.
The luxury development of Amari Bay
Amari Bay is being developed under the PDS scheme, which means you can invest in property in this development as a foreigner. This regime offers many advantages to foreign buyers, making it an attractive investment opportunity.
Amari Bay offers a range of luxury properties that meet the highest expectations. You'll be able to choose from six very high-standard apartments, featuring top-of-the-range finishes and spacious living areas. Two exclusive villas offer a haven of peace and privacy, with private gardens to enjoy the surrounding nature. And if you're looking for a truly extraordinary living experience, the two exclusive penthouses will seduce you with their elegance and panoramic views.
Amari Bay's exceptional features
Amari Bay is distinguished by its contemporary architecture and design, which blend harmoniously into the natural environment. Every detail has been carefully thought out to create an atmosphere of luxury and refinement.
Amari Bay properties are finished to the highest standards, with quality materials and modern amenities. You'll marvel at the spacious, light-filled living spaces that offer absolute comfort. Terraces and private gardens are the perfect places to relax and enjoy the natural beauty that surrounds you.
And of course, you won't be able to resist the infinity pools that add an extra touch of luxury to every property. Dive into the crystal-clear waters and let your worries melt away.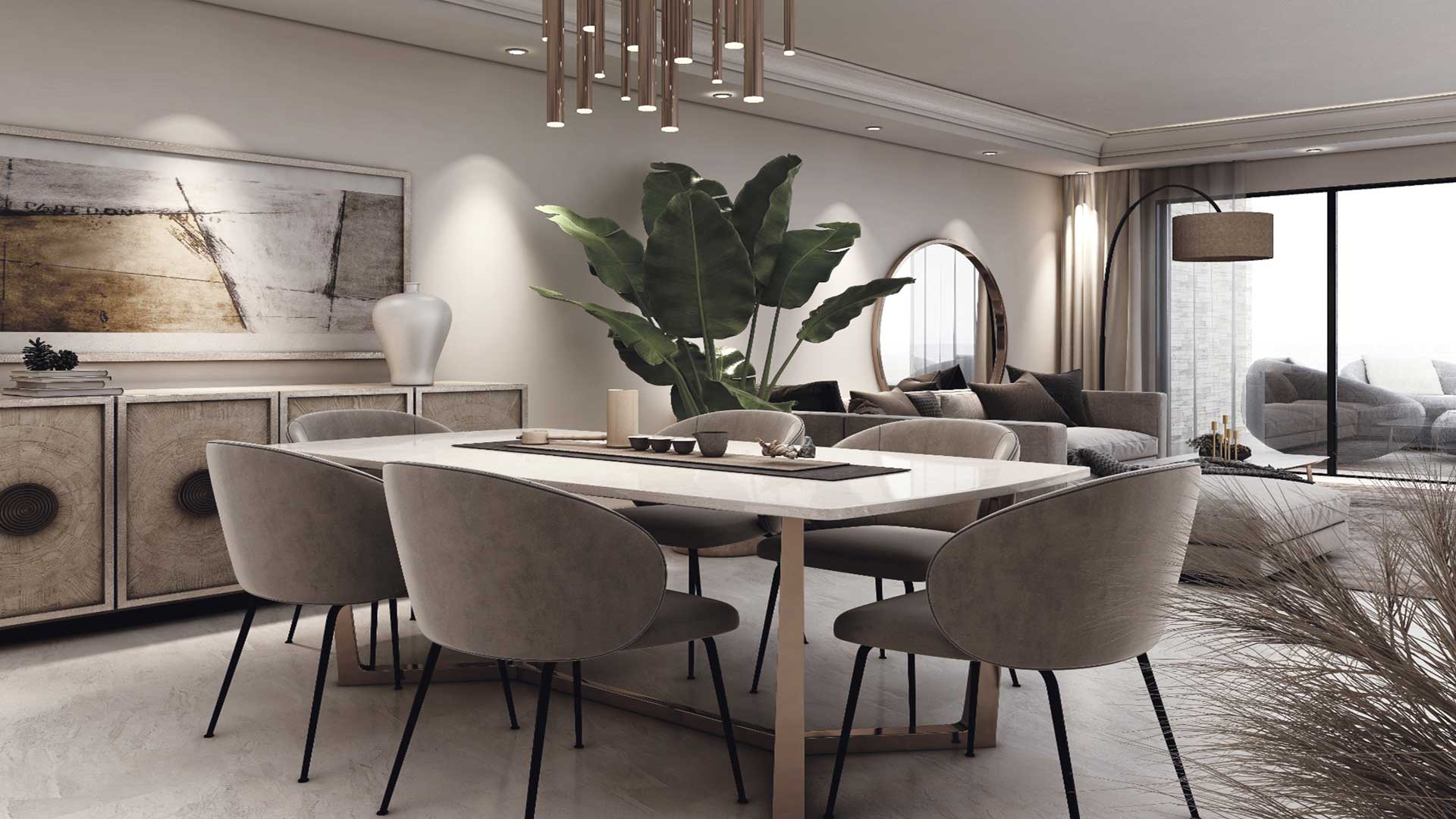 Yves Delorne Paris
A prestigious collaboration between exceptional craftsmanship and timeless luxury
Since its establishment in 1845 by Ernestine Fremaux, the House of Yves Delorme luxury linens has embodied Poetry, Audacity, Excellence and Savoir-faire. These core values are constantly renewed through its creativity, offering sustainable, vibrant craftsmanship. This unique alchemy has enabled Yves Delorme to shine internationally, distinguishing itself by its ability to create, surprise and evolve.
An alliance between Amari and Yves Delorme for an exceptional shopping experience
Amari is proud to partner with Yves Delorme, offering an exquisite selection of luxury linens. As an Amari buyer, you'll have the opportunity to choose from a range of Yves Delorme products, guaranteeing an unparalleled residential experience.
Experience the ultimate in refinement with Yves Delorme
Thanks to this exclusive collaboration, you can personalize your home with Yves Delorme linens, synonymous with elegance and sophistication. Whether you want to create an intimate ambience in your bedroom or add a touch of luxury to your bathroom, Yves Delorme will meet your most demanding expectations.
Choose from a range of carefully crafted products, combining noble materials, subtle patterns and exceptional quality. Each piece reflects the craftsmanship of Yves Delorme and is designed to offer absolute comfort and uncompromising aesthetics.
The Amari Bay experience
Living at Amari Bay means enjoying an exceptional lifestyle. Residents benefit from first-class amenities and services that make daily life even more enjoyable. Relaxation and wellness areas are at your disposal, allowing you to recharge your batteries and unwind.
What's more, Amari Bay offers easy access to a host of outdoor activities. Whether you enjoy water sports, hiking in the mountains or strolling along the beach, there's always something to keep you entertained and active.
Magnificent beaches and water sports are nearby, allowing you to take full advantage of the region's natural beauty.
. You can dive, windsurf, fish or simply relax on the warm sand. Amari Bay offers privileged access to these natural treasures, allowing you to live every moment to the full.
Finally, security and confidentiality are top priorities at Amari Bay. You'll be able to enjoy your life with complete peace of mind, knowing that your residence is secure and that your privacy is protected.
Investment and opportunities in Amari Bay
Investing in property at Amari Bay is a wise decision. Real estate in Mauritius is booming, offering excellent investment opportunities. As a foreigner, you can buy property in this development under the PDS scheme.
Amari Bay offers the possibility of renting out your property for seasonal stays. With the lure of Tamarin lagoon views and luxury facilities, you'll be able to generate extra income while enjoying your property whenever you like.
Amari Bay is much more than just a luxury real estate development. It's a place of wonder and natural beauty, where you can experience the extraordinary. Imagine waking up each morning to a spectacular view of the Tamarin lagoon, relaxing on your private terrace and plunging into the crystal-clear waters of the infinity pool. Amari Bay offers all this and more.
Magnificent 400m2 villa on 913 m2 of land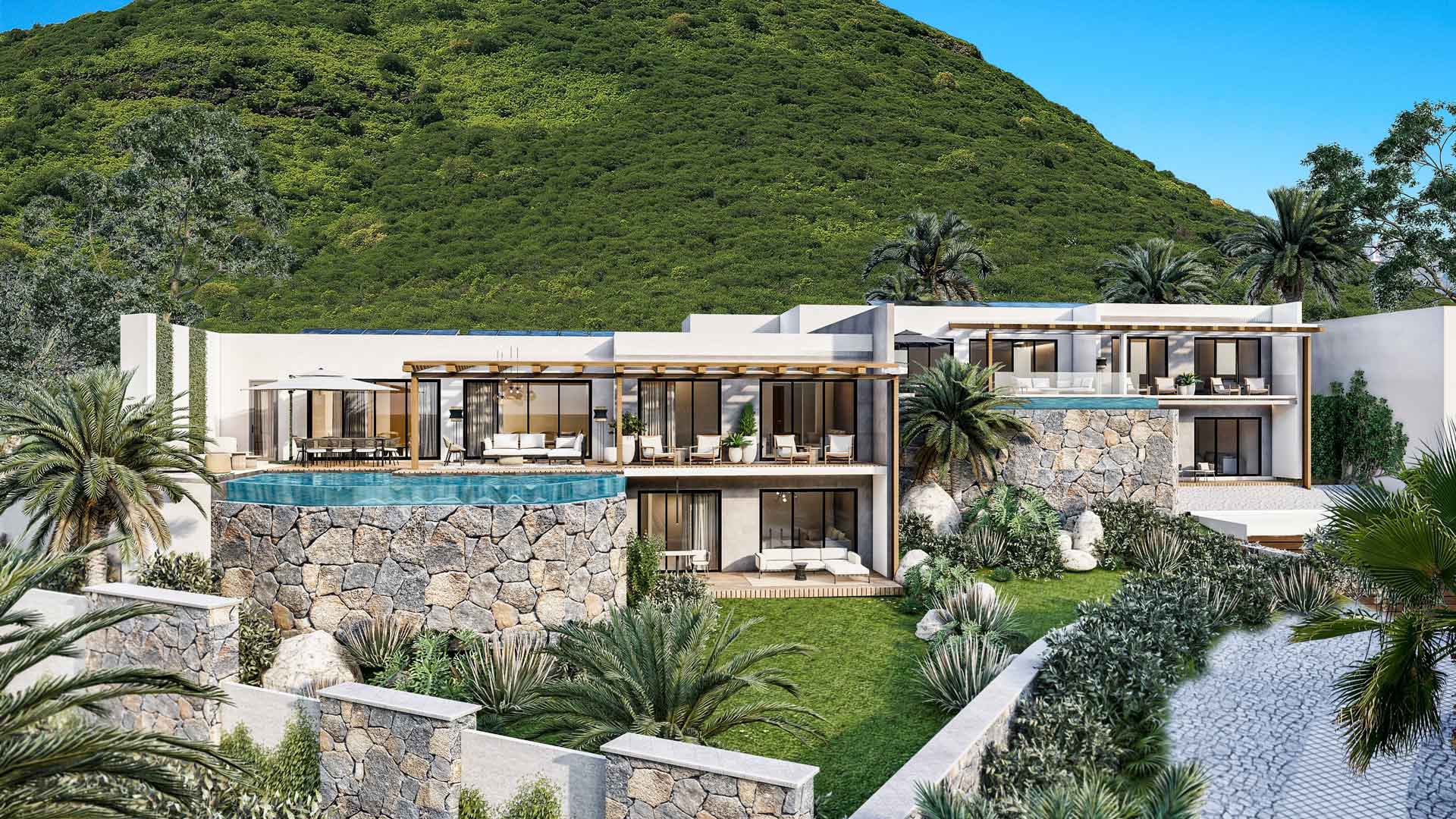 Discover our exceptional villas, perfectly balanced between total openness and peaceful seclusion. Let yourself be seduced by the incredible attention to detail, creating a unique experience for investors looking for optimal returns.
Our villas offer much more than just a place to live; they represent an unrivalled investment opportunity. Take advantage of the growing demand for seasonal rentals and maximize your passive income with these popular properties.
Imagine being lulled by the tropical breeze and diving into a mesmerizing infinity pool, while enjoying the superb openings that harmoniously link the indoor and outdoor spaces. It's the perfect opportunity to combine an enviable lifestyle with financial benefits.
Investir dans nos villas, c'est saisir une opportunité unique de mêler plaisir et rentabilité. Immerse yourself in this captivating universe, where every detail has been thought out to offer you an incredible experience. Don't miss this opportunity to become the owner of an exceptional property and take advantage of the many benefits it has to offer.
Penthouses

with breathtaking views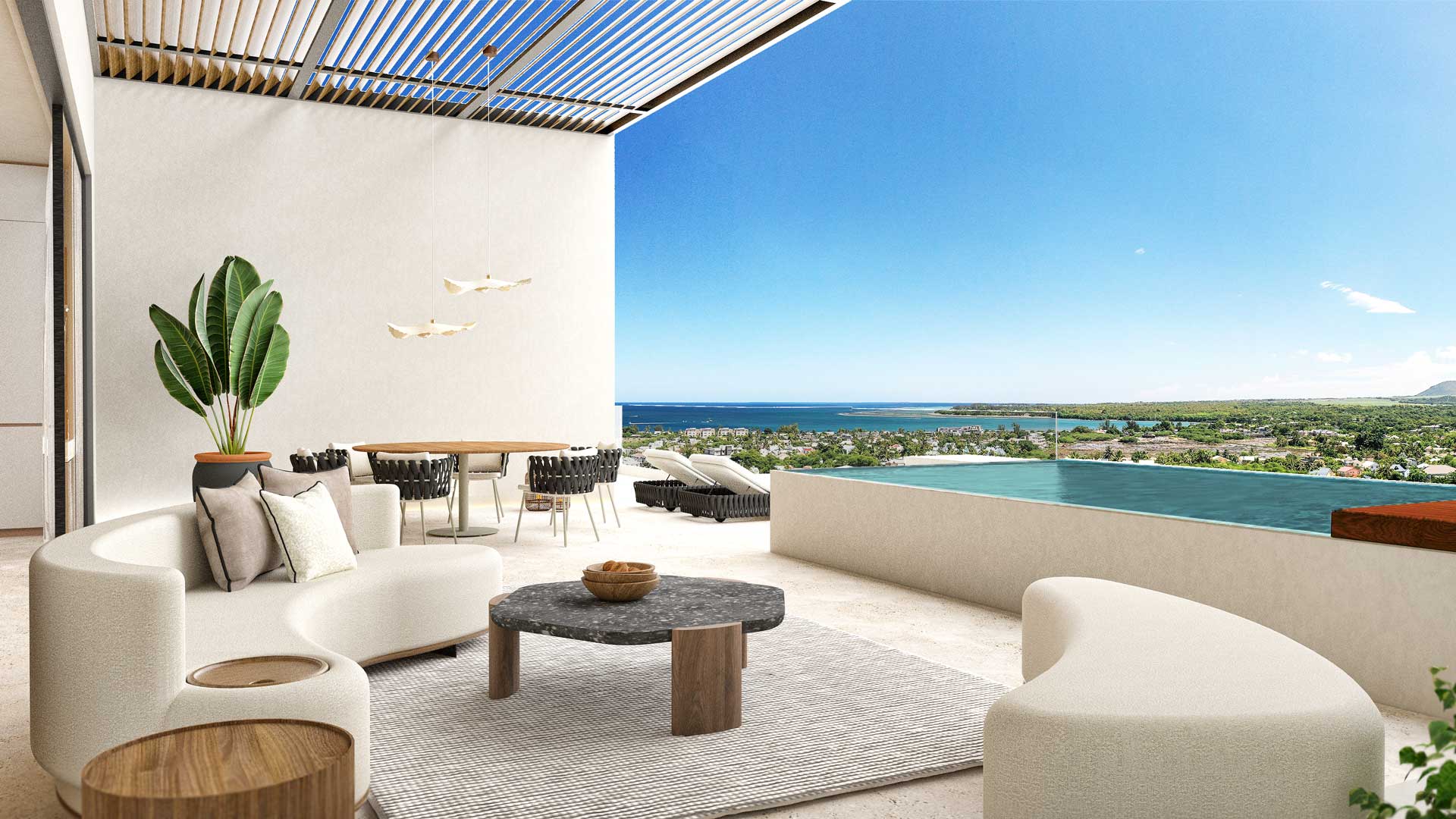 Immerse yourself in a unique sensory experience where exceptional interiors rival the breathtaking views that surround them. The penthouses, ideally located overlooking the sparkling waters of Tamarin Bay, offer a breathtaking setting.
Imagine living in one of our penthouses, with its breathtaking views embodying luxury and opulence at their very best. Every day, you'll marvel at this visual symphony, a true source of pleasure for the eyes.
The interiors have been carefully designed to create an elegant and sophisticated atmosphere, while highlighting the grandiose panoramas that stretch as far as the eye can see. Generous bay windows let in plenty of natural light and make you feel at one with the surrounding nature.
Let yourself be transported by the magic of these captivating views that change with the hours and the seasons. Whether from your spacious terrace or from inside your penthouse, every moment will be an invitation to wonder and contemplate.
Come and enjoy an incomparable visual and sensory experience in our residence. Reserve your place now to enjoy these breathtaking panoramas and savor the unparalleled pleasure of a breathtaking view that will never cease to amaze you.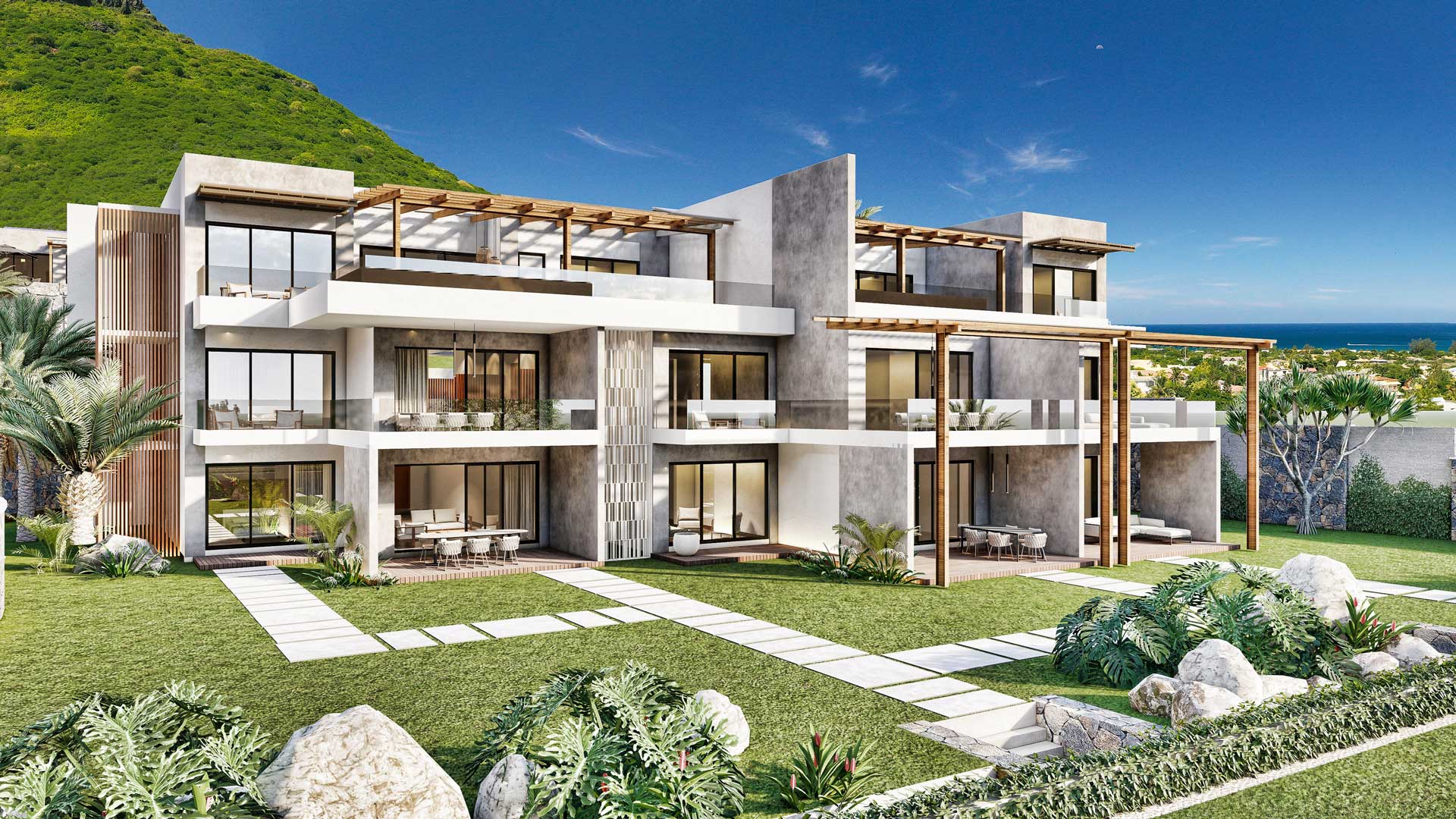 The unique apartments will seduce you with their subtle marriage of volcanic stone, solid wood and metal ornaments, creating a chic, contemporary tropical style.
Every detail has been carefully thought out to offer you an exceptional living experience. From handcrafted finishes to high-quality materials, our apartments combine aesthetics and functionality to meet your most demanding needs.
Let yourself be inspired by natural beauty harmonized with sleek, modern architecture. The nuances of volcanic stone and the warmth of wood create a soothing, luxurious atmosphere in which to live.
Imagine waking up in your own private oasis, surrounded by lush nature, and feeling transported to a world where comfort and style blend harmoniously. It's the ideal place to recharge your batteries and take full advantage of the tropical lifestyle.
Don't miss the opportunity to live in these exceptional apartments, where tropical charm meets modern elegance. Reserve your piece of paradise now and be inspired by this unique residence that redefines the concept of luxury and well-being.
Refined, luxurious interior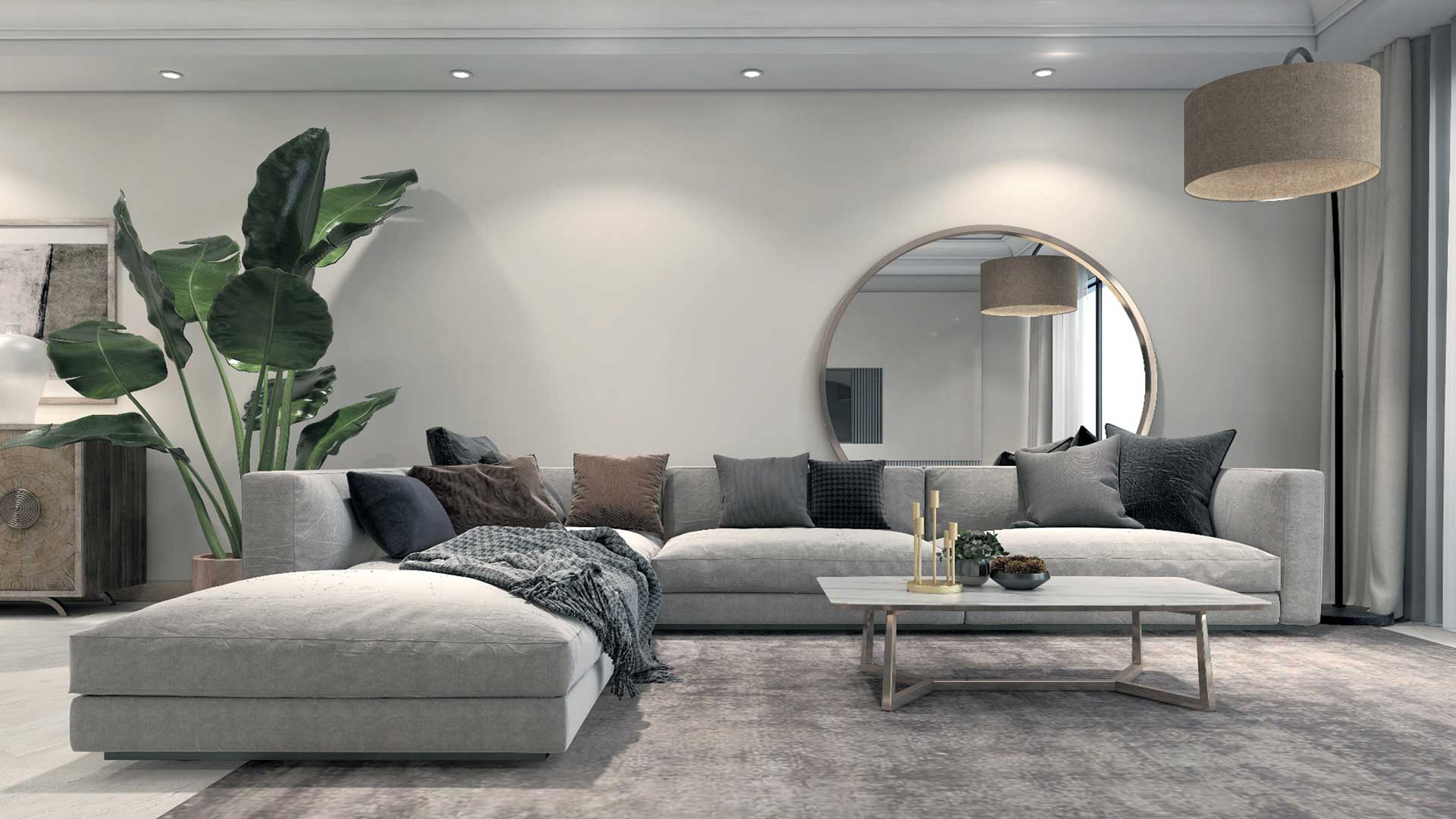 Living spaces have been designed to benefit from an attractive interplay of daylight and sea breeze. The apartments are cleverly laid out to maximize natural light and allow sea air to circulate freely. Large windows open onto a magnificent terrace, creating a perfect connection with the natural environment.
Top-of-the-range cuisine for gourmet enthusiasts
The kitchens in our apartments are truly top-of-the-range masterpieces. Fully equipped with a central island, it offers a functional and convivial space. High-quality materials and meticulous finishing add a touch of sophistication. The kitchen blends harmoniously into the generous living space, allowing you to prepare delicious meals while enjoying the company of your loved ones.
An elegant and timeless master bedroom
The master bedroom is a true refuge where luxury and comfort meet. Perched like a nest above the ocean, it offers breathtaking views of the surrounding area. Noble materials and bespoke furnishings create an elegant, timeless atmosphere. It's a veritable treasure chest where you can relax and recharge your batteries, inviting nature to flourish in its serene atmosphere.
An Oasis Bathroom for Absolute Well-Being
The en-suite bathroom has been designed as an oasis of well-being where you can fully recharge your batteries. Top-of-the-range equipment offers optimum comfort, while noble materials and a soothing color palette create a sophisticated ambience. Functionality blends with sophistication to offer you a luxurious relaxation space, where you can bask and pamper yourself.
In our apartments, every space is designed to offer an exceptional living experience. From the architectural details to the choice of materials, everything has been carefully selected to create a perfect harmony of style and functionality. Discover a place where luxury and comfort meet, offering you an inspiring and unforgettable residential experience.