New program 2022
2 BEACH RESIDENCE
A stone's throw from the beach
2 BEACH RESIDENCE
ACCESSIBLE TO FOREIGNERS and WITHOUT AGENCY FEES

2Beach Residences , is located on the north coast of Mauritius, a short walk from the sublime beach of Péreybère. This part of the island is one of the most popular, with its many resorts, beautiful beaches, shopping centers, renowned spas and incredible nightlife…
You have everything you need close to home to experience tropical life in all its splendour.
Spacious apartments with an interior design style that will stand the test of time. 2 BEACH RESIDENCE offers an ideal lifestyle for couples and families. The layouts of the apartments and common areas maximize functionality.
MODERN TROPICAL ARCHITECTURE with a colonial touch ….. Large floor-to-ceiling openings let a gentle breeze into the residence, while the layout of the corridors balances light and space in the apartments.
The materials are meticulously selected, the finishes worked in detail, and the furnishings beautifully designed around an elegant color palette that blends
harmoniously to its environment, creating an atmosphere that is both exhilarating and soothing.
The apartments are delivered unfurnished, but are equipped with high-end appliances and equipment. The option of a deco pack is available to ensure absolute comfort.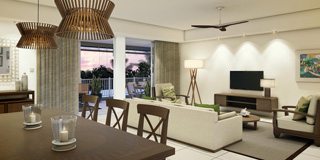 2 BEACH RESIDENCE, a magnificent project ACCESSIBLE TO FOREIGNERSwhich consists of 3 penthouses of 181 m2 + 68 m2 terrace and 12 luxury apartments of 113 m2 spread over three blocks.
The architecture of this residence is sleek and modern with a traditional touch, represented by the sloping roofs and wall cladding in wood and volcanic stone. The layout of each flat has been designed with the aim of making it functional.